Saanich Commonwealth Place
is closed through October 10
(including weight room, library & cafe)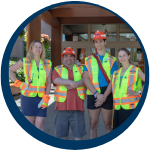 We appreciate your patience during our annual maintenance period and while we install a new Biomass Boiler to help reduce our carbon footprint. Visit the project page to learn more.
SCP reopening updates:
On October 11, SCP will reopen to patrons with the exception of aquatic areas. SCP will resume all non-aquatic programming, including weight room, fitness classes, drop-in sports, youth and preschool programs.
On October 17 and 18, SCP will close the entire facility for a planned power outage. Patrons registered for programs on October 17 and 18 will be contacted in advance and credited for the cancellations.
On October 19, SCP will reopen pool facilities (with the exception of the competition pool) and resume aquatic programs and activities. This slight delay in reopening is to accommodate unforeseen yet necessary repairs and maintenance. SCP expects to reopen the competition pool in late October.
Our teams thank you for your patience and understanding while we improve your recreation centre. We look forward to welcoming you back soon!
Fall Parent & Tot and Preschool Registered Programs
Click here for a flyer with programs that still have space available.
Please Visit our Three Other Saanich Recreation Centres
Drop In Schedules
Services Offered at SCP