Community Associations are independent groups that are guided under the Societies Act and not managed by the District of Saanich. They are comprised of local area residents who can provide valuable input to Council and Saanich staff on items of interest such as land use and planning proposals. Members of associations often seek representation on Saanich advisory committees.
Community groups and organizations can have an interest in specific Saanich parks and work closely with the Parks and Recreation Department and Council on the maintenance and development of a community parks, or are representatives of specific neighbourhoods or interest groups.
Please contact the Community Association, group and organization directly for any further information.
Community Association Map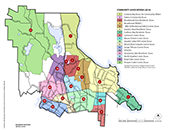 Community Association Name

Map Index

Blenkinsop Valley Community Association
Luke Chen, President

Phone: 250-592-8683

5

Broadmead Area Residents' Association
Doug Baer, President

3

Area within both the Broadmead Area Residents Association and Blenkinsop Valley Community Association

4

Cadboro Bay Residents Association
Liz Miller, Chair
Phone: 250-888-4797

7

Lisa Timmons, President
Phone: 250-595-8185

9

Carey Area Residents' Association (Formerly: Residents Association of Strawberry Vale, Marigold and Glanford)
Hollis Hodson, President
Phone Number: 250-744-2371

14

Cordova Bay Association for Community Affairs
Barb Lucas, President
Phone: 250-857-4032

1

Falaise Community Association
Stuart Macpherson, President
Phone: 250-415-1739

2

Gordon Head Residents' Association
Chris Poirier-Skelton, President
Phone: 250-472-1717

6

Gorge Tillicum Community Association
Vera Wynn-Williams, President
Phone: 250-516-4903

12

Mount Tolmie Community Association
Ryon Bateman, Vice President / Acting President
Phone: 250-472-2246

8

Mount View Colquitz Community Association
Carol Hamill , President
Phone: 250-658-2856
Please visit our web site

11

15

Prospect Lake District Community Association

Kaeley Wiseman, President
Phone: 250-580-3835

17

Quadra/Cedar Hill Community Association
Susan Haddon, President
Phone: 250-590-3856

10

Rainbow Park Ratepayers Association

(JOINED QUADRA/CEDAR HILL COMMUNITY ASSOCIATION)

Royal Oak Community Association

Roger Graham, President

16
The Saanich Community Association Network
The Saanich Community Association Network (SCAN) supports resident associations from all areas of Saanich. These independent community associations are recognized as having an important role in our neighbourhoods. They are comprised of volunteers who provide valuable help to their fellow residents. As members of SCAN, community associations share information and experiences that can lead to creative and proactive solutions to issues that affect our communities.
SCAN: Saanich Community Association Network
Community Groups and Organizations