September - June WYLD Opportunities
Applications for WYLD Leadership programs are now closed for Summer 2022. Please check back in the Fall for more opportunities
WYLD - Willing Youth Leading Diverse Communities
Are you intereted in opportunities to work with kids and community? Do you love special events and want to help behind the scenes?
Join our list of interested youth to have these opportunities delivered straight to your inbox. We will send out info on special workshops and programs that will help grow on your leadership journey. Pick and choose which opportunities are right for you!
Questions can be directed to:
Loryn Anderson loryn.anderson@saanich.ca 250.475.7111
Maddie Parks maddie.parks@saanich.ca 250.475.7624
Summer WYLD Opportunities
More Information about WYLD - Willing Youth Leading Diverse Communities
Are you interested in spending your summer working with kids? Do you want to be a leader in your community and work with diverse individuals? Let us help guide you in your leadership and skill building journey.
Spend your days learning applicable skills for a summer camp job, instructing, or working specialty programs and beyond. You'll learn to teach and play all of the-best games, gain confidence in leading activities with groups and cover all of the important aspects of working in a team environment. Work closely with our leadership coordinators and staff mentors during your mentored summer placement.
This program is an excellent stepping stone for individuals who are considering a future in the fields of Early Childhood Education, Teaching, Child & Youth Care, Social Work, Counselling, and Human Services.
Our weekly and multi week program placements in an outdoor camp setting are flexible with time and duration. We will work with you to develop a schedule that works for you and your families summer plans.
Upon a successful interview and enrolment in this program there will be a $50.00 registration fee. This fee includes: A certificate of completion, a individual reference letter, a games manual, a "how to" junior leader guide and a placement T shirt.
Questions? Check out our FAQ's here!
Further questions can be directed to loryn.anderson@saanich.ca - #250-475-7111 OR maddie.parks@saanich.ca - #250-475-7624.
Saanich Commonwealth Place
Maddie Parks
Phone: 250-475-7624
Email: Maddie.parks@saanich.ca
G.R. Pearkes Recreation Centre
Tyler Smith
Phone: 250-475-5462
Email: tyler.smith2@saanich.ca
Gordon Head Recreation Centre
Loryn Anderson
Phone: 250-475-7111
Email: loryn.anderson@saanich.ca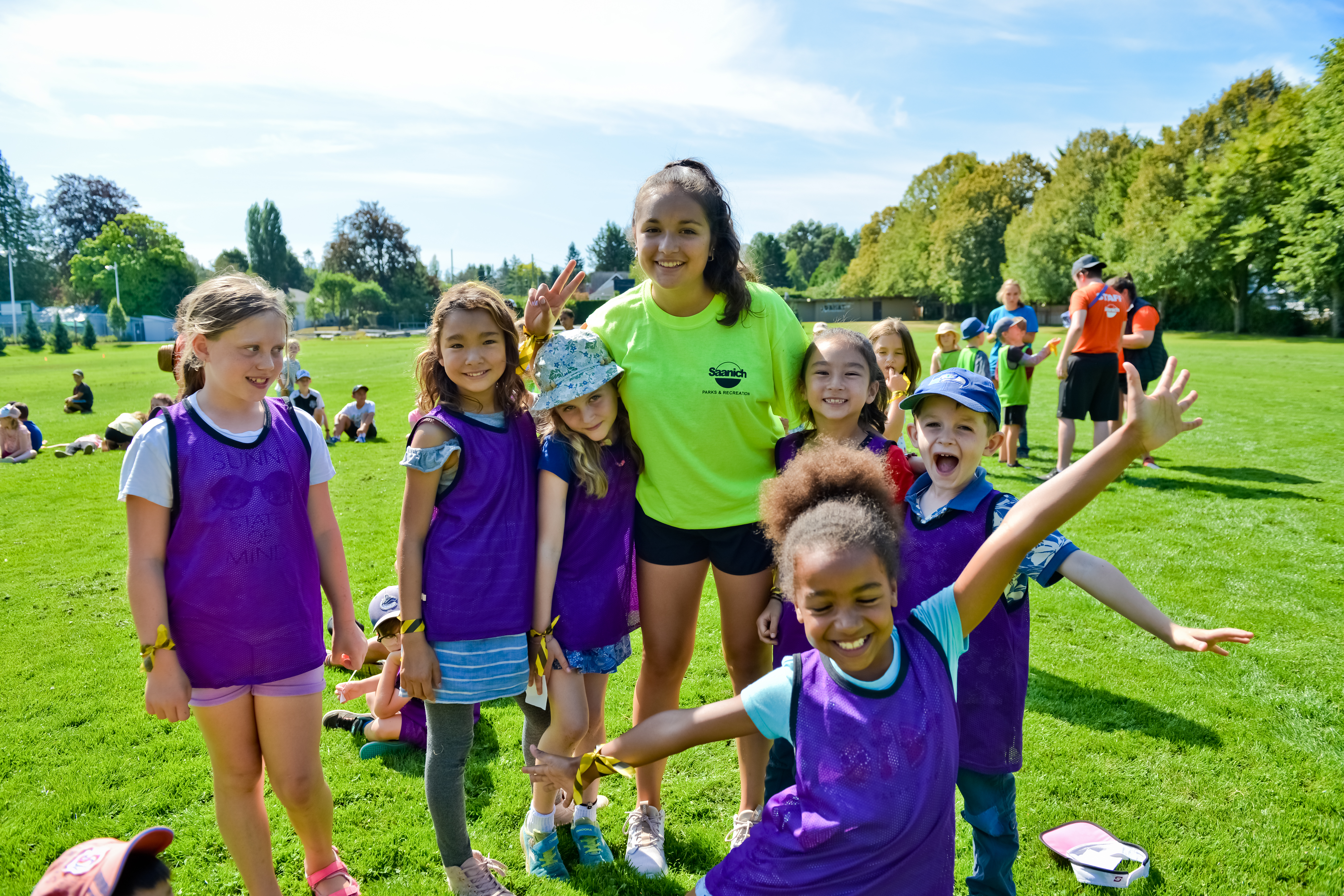 Volunteering
Interested in Volunteering with the District of Saanich?
Our Youth Volunteer Program offers a wide variety of opportunities for youth to be engaged in our community.
Learn more