PLEASE NOTE - SaanichMap is being upgraded and you may notice minor changes to the application.
If you experience any issues, please contact gis@saanich.ca.
Access Saanich public data through interactive maps with accessible and easy-to-use tools that enhance and support the community.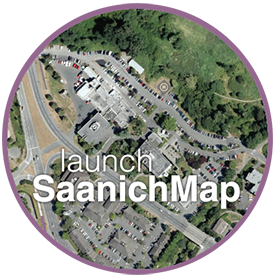 With SaanichMap you can:
Launch the map viewer from a desktop computer, tablet or mobile device using any web browser.
Explore and query more than 100 map layers including heritage sites, underground services, land use, trails and aerial photography dating back to 1997.
Display layers individually or by themes like Trails and Parks, Transportation, Emergency Response, Utilities.
Mark-up and share maps, data and reports with others.
Find locations by entering an address, intersection, street, facility, park or other attribute.
Get detailed property information such as lot size and location, zoning, school district, tax levies, assessments.