The Saanich Commonwealth Place (SCP) mechanical system replacement will upgrade existing natural gas boilers to new biomass boilers. This conversion enables the facility to use renewable fuel instead of fossil fuels.
The goal of the project is to reduce the greenhouse gas emissions by 90 per cent.
In 2018, the District of Saanich received a grant from the Federal Gas Tax Fund to cover 100 per cent of the estimated mechanical upgrades project cost of $4 million.
As outlined in our Strategic Facilities Master Plan, SCP is our largest facility asset and has world class aquatic facility status. We are committed to improving our environmental stewardship and operating costs, while supporting services and programs.
SCP is Saanich's largest recreation facility and currently the largest source of GHG emissions for all of the District's facilities.
What is biomass?
Biomass energy is the creation of heat and/or power from biofuel such as solid wood or wood residues, agricultural crop residues, aquatic plants and animal wastes. As a renewable form of energy, it can help Saanich reduce its carbon footprint and achieve its climate target of becoming a 100% renewable energy community.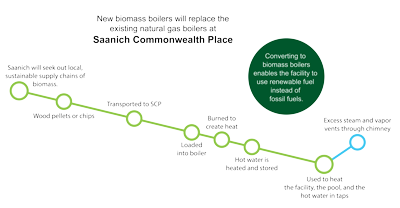 BioFlame Briquettes Ltd., located in Chemainus in the Cowichan Valley, was awarded the contract to manufacture Saanich's biomass pucks for the new boilers. The biomass they will supply is a highly efficient woodfibre by-product created from post-industrial milling operations. As such, Saanich has sourced a local supply of renewable biomass fuel that will significantly reduce our corporate carbon footprint while supporting local business and helping pre-consumer and post-consumer industries and markets.
Recreation service interruptions
Next steps
Construction will begin in September 2022 and continue until Fall 2023.

Whenever possible, construction will take place between 8 a.m. and 4:30 p.m. Most exterior construction noise will occur from September 6 to October 10.
More information about the project will be shared once available.