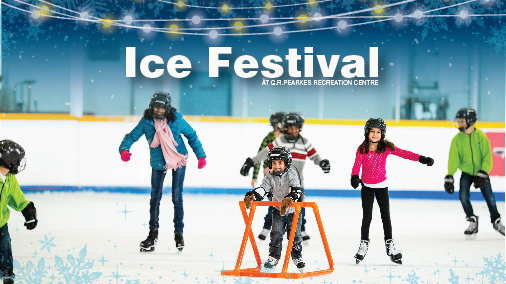 December 20-26, 2021
Pearkes is hosting our 3rd annual Ice Festival! Enjoy this festive season with family and friends in our Winter Snow Globe on ice. The lights will be down and the arena transformed into a winter wonderland with a giant snow globe, trees, lights and snow. It is truly a magical way to spend time this holiday season.
*Proof of Vaccination required for all those ages 12+ for Ice Festival Events and Private Bookings.


Open Skates
Reservations start December 1
Private Booking
Click time to check availability
Monday
December 20

Tuesday

December 21

Wednesday

December 22

12:30-1:30pm


Thursday

December 23

12:30-1:30pm

Friday
December 24
1:15-2:15pm

Saturday
December 25
Closed
Happy Holidays!
Sunday
December 26
For more information contact G.R. Pearkes Recreation Centre
at 250-475-5400
Private Bookings
Ice Festival makes for the perfect office holiday party or fun family event. You can book our Ice Festival for your private function. The rental fee includes exclusive use of the ice for your group, skate rentals and a dressing room to get ready or as a party room for before, during and after your event.
Open Skates
Registration is required for our Ice Festival Open Skates. There are limited skating aids available. Regular admission applies. Skates are available for rent.