A concept plan for redevelopment
Fire Station #2 has served the District of Saanich well for 40 years. Northern areas of Saanich, in particular Broadmead and Royal Oak, have seen tremendous growth and change since the facility was built in 1978. The Fire Department has been and continues to be able to adequately provide emergency services from this location. However, given current growth trends, we anticipate our ability to provide services will be strained if Fire Station #2 does not undergo any changes.
In spring 2018, Council adopted a Strategic Facilities Master Plan. The Plan outlines the need for capital investment and prioritization among the District's facilities. Fire Station #2 is ranked one of the highest priorities and is has been the focus of activity for staff for some time.
The Fire Station #2 Redevelopment Concept Plan [PDF - 1 MB] focuses on operational requirements, such as fire apparatus (i.e. fire engines and other vehicles) movement on and off the site, and not about building design. This first activity is only to confirm the viability of a concept, both in providing critical public safety services as well as costs.
Since our community public information meetings in December 2018, staff have advanced the planning of the project. The Fire Station #2 Redevelopment Business Case - Background, Project Need, Site Plan Requirements [PDF - 10 MB] [PDF - 10 MB] demonstrates the incorporation of comments and input received in the first phase of public consultation and outcomes of the progress to date.
At its meeting of May 27, 2019, Saanich Council approved funding for the Fire Station #2 Redevelopment Project and directed staff to commence all required processes to launch the program. This redevelopment project reflects the District's commitment to provide public safety services to residents and build a future of sustainable services delivery that residents of the District can rely on with increased confidence.
Staff in the Saanich Fire and Engineering Departments have been working with a team of architects, engineers, landscape architects, arborists and surveyors in advancing the detailed design development [PDF - 21 MB] and building plans [PDF - 2 MB] for the project since the May Council approval. Public information meetings were held in 2018 and 2019 to provide feedback during the development phase of the project and public input is now closed for this phase of the project.
What's next?
The District will be submitting a Development Permit and Rezoning Application to Saanich Planning with
current design imagery
. In 2021, the public can anticipate a formal public consultation and design review process lead by Saanich Planning.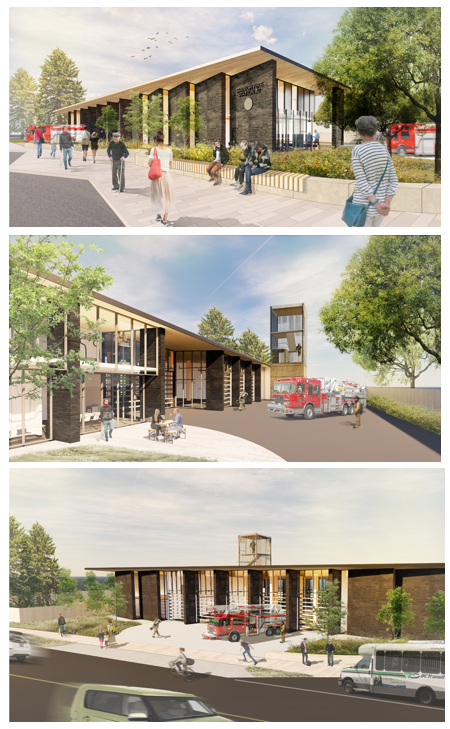 Need more information?
Please contact fireadmin@saanich.ca.