What is a Land Use Contract?
A Land Use Contract (LUC) is a contract between a property owner and the municipality that outlines the use and development permitted on a property. The regulations in a Land Use Contract (LUC) are similar to those found within a zoning bylaw, except that the LUC is registered on title and may contain other items typically not found within a zoning bylaw, such as engineering servicing standards and development design guidelines. The presence of a Land Use Contract on a land title requires that any regulations within the LUC take precedence over zoning or subdivision regulations on that land.
When were LUCs used?
LUCs were allowed in B.C. between 1971 and 1978. When B.C.'s LUC legislation was repealed in 1978, no new contracts could be created but existing contracts remained in place, serving as the existing land use regulations (de facto zoning), for these sites.
There are 9 LUCs which remain in place in Saanich and the locations are identified on the LUC map found here. The areas subject to each LUC and LUC documents and associated plans can be found here.
What is changing?
The Provincial Government adopted amendments to the Local Government Act, which:
terminate all Land Use Contracts on June 30, 2024; and
directs municipalities to ensure appropriate underlying zoning is in effect for all properties that have a LUC.
All LUC areas in Saanich have underlying zoning in place which will come into force on June 30, 2024 when the LUC is terminated by the Province. Zoning can be found here for all properties in the District of Saanich. On or after that date, the LUC notation will be removed from the property owner's certificate of title.
All existing buildings and structures which were lawfully built will have legal non-conforming status and can continue to exist with no action required.
For more information please see:
LAND USE LOCATION MAP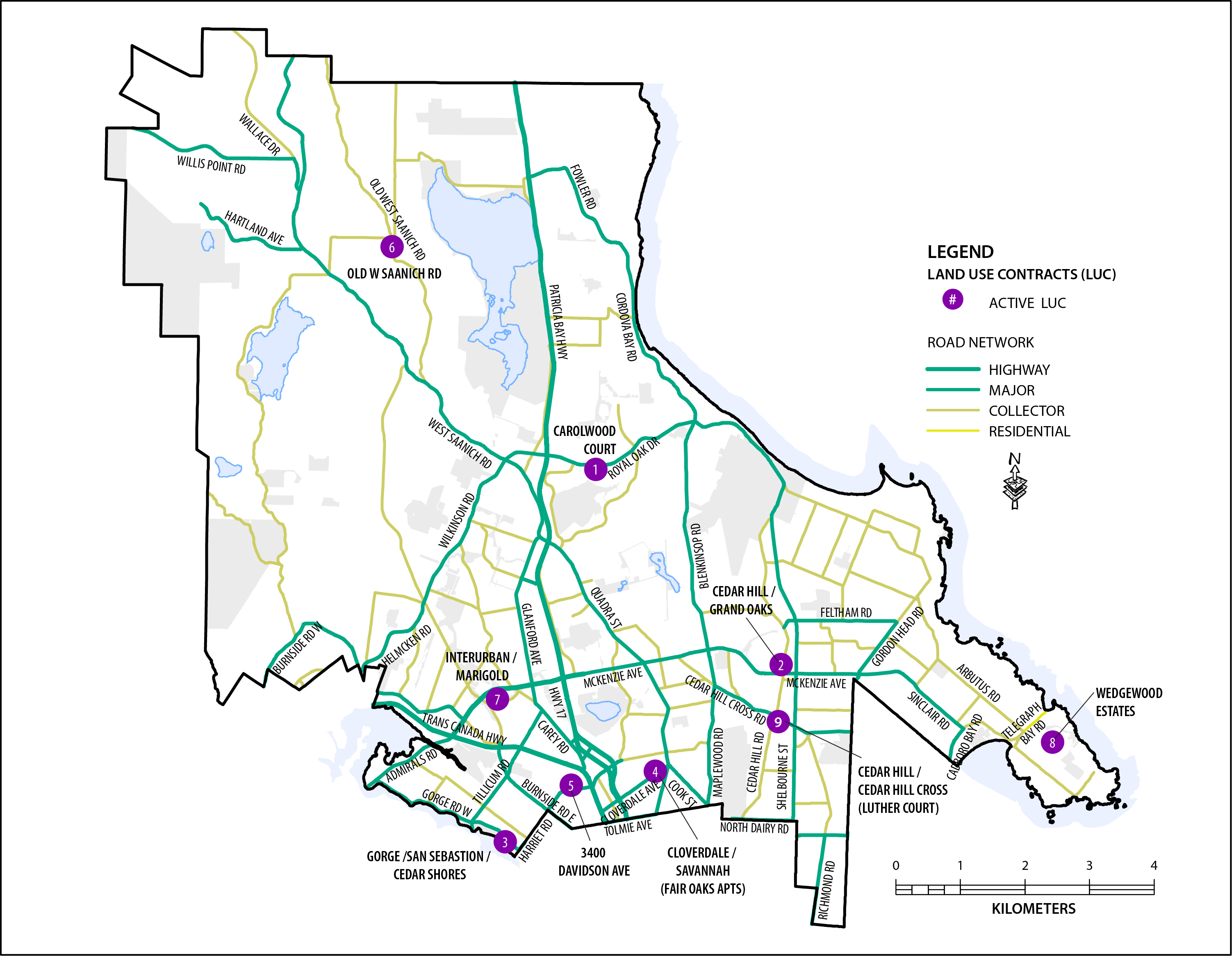 LANDS USE CONTRACTS AND MAPS
Carolwood Court
Cedar Hill / Grand Oaks
Gorge / San Sebastion / Cedar Shores
Cloverdale / Savannah (Fair Oaks Apts)
3400 Davidson Ave
Old W Saanich Rd
Interurban / Marigold
Wedgewood Estates
Cedar Hill / Cedar Hill Cross (Luther Court)