Subdivision Approval Process
What is a Subdivision?
Subdivision can generally be described as the legal mechanism to create new, titled parcels of land. Where a proposed subdivision complies with the current zoning regulations for the parcel, applications are submitted to the Saanich Approving Officer.
Privately owned land in B.C. is registered under the Torrens land title registration system. Generally, land cannot be conveyed or subdivided without registering the changes in the Land Title Office.
In almost all cases, the Land Title Office will not register new parcels that are created through subdivision without the signature of an Approving Officer on the plan of subdivision.
Role and Authority of Approving Officer
The Land Title Act requires that Municipal Council appoint an Approving Officer as the statutory official responsible for ensuring that subdivisions applications comply with provincial statutes, regulations and local government bylaws regulating subdivision. Provincial statutes establish the Approving Officers role as a quasi-judicial position whose discretion is separate and independent from elected officials and municipal staff.
Subdivision Frequently Asked Questions
For answers to frequently asked subdivision questions, please have a look through our FAQ page.
View The Seven Steps to the Subdivision Process, also available in an easy to follow flow chart.
Types of Subdivision (Approving Officer approval required):
Adjusting lot boundaries between two or more parcels;
Creating several new lots from one or more parcels;
Creating lots in a bare land strata development;
Creating a phased strata plan development;
Subdivision of land for the purpose of leasing for a term longer than 3 years;
Air space plan subdivisions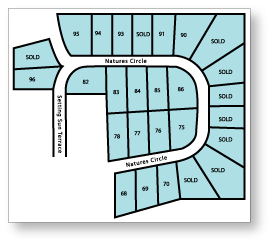 Municipal Council approvals are required for:
Zoning & Variances
Zoning is a way of regulating the use and density of land. If a property must be rezoned or variances are required before it can be subdivided, it will be necessary to provide rezoning and/or development variance permit applications concurrently with the subdivision submission. Review of the applications will take place simultaneously and when complete, planning staff will prepare a report for Council's consideration of the proposed rezoning and/or variances.
If and when Council adopts an amending bylaw or issues any required variances, the subdivision application would be referred to the Approving Officer, who will make a decision with respect to approval or rejection of the proposed subdivision.
Panhandle Lots
A panhandle lot is a parcel which requires a relatively narrow strip of land, or panhandle, to provide principal vehicle access to a street. Council policy states that "All panhandle lots that do not provide a minimum frontage on a highway of 10% perimeter of the lot shall be referred to Council for consideration of an exemption from the statutory requirement under s. 944(2) of the Local Government Act."
If your subdivision proposal includes one or more lots in a panhandle configuration, the application must be referred to Council for consideration of a request to waive the 10% perimeter road frontage requirement. Please refer to the Reduced Frontage Council Policy, which identifies the issues considered by Council when assessing these requests. The authority to waive the 10% perimeter road frontage requirement for non-panhandle lots is delegated to the Approving Officer.
Strata Title Conversion of a Previously Occupied Building
If a previously occupied building is to be subdivided into strata lots, the Municipal Council is the "approving authority". Section 242 of the Strata Property Act provides the criteria that Council must take into consideration when assessing applications. See the Strata Conversion Application Form.
Refusal of Subdivision
The Approving Officer may decide to refuse to approve a subdivision plan under the relevant provisions of the Subdivision Bylaw, Zoning Bylaw, Provincial Statutes and Regulations. If a subdivision plan is rejected, there is no appeal to Mayor and Council. The applicant may only appeal an Approving Officer's decision to the B.C. Supreme Court under s. 89 of the Land Title Act. It is important to note that only the applicant may initiate an appeal under this legislation. There is no appeal procedure set out in the Bare Land Strata Regulations.