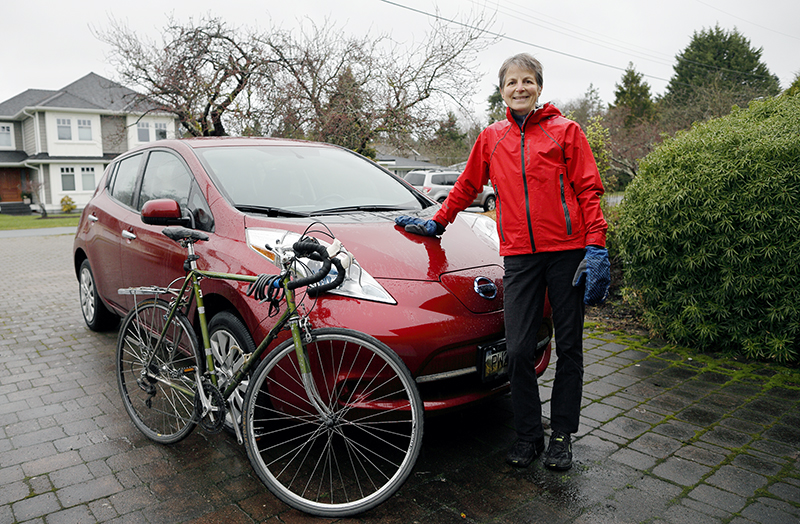 In Saanich, burning fossil fuels for personal vehicle transportation is the biggest source of GHG emissions in our community. Access help for making a switch to active, public, or renewable transportation today!
Learn more about e-bikes or electric vehicles in Saanich, or watch these fun and informative electric vehicle videos.
Active, public, and shared mobility rebates -
$930 for an 11 month BC Transit Ecopass
$500 carshare credit
Electric vehicle (EV) rebates – visit www.pluginbc.ca for details. (Terms apply and programs change frequently.)
Fleet electrification - visit https://pluginbc.ca/go-electric-fleets/ for details (terms apply). This program is open to B.C. registered companies, non-profit organizations and public entities and provides funding, training, and other support for deploying zero emission fleets.
EV Charging rebates – (Terms apply and programs change frequently.)
Federal Zero Emission Vehicle Infrastructure Program for public places, on-street, multi-unit residential buildings, workplaces and light duty fleets. Provides 50% of costs up to specific maximums by project type for for Level 2, Fast Chargers, and hydrogen refuelling stations. (Multiple intakes per year - check eligibility requirements for each intake.)
CleanBC Go Electric EV Charger Rebate Program
EV Ready rebates

Up to $56,000 for chargers ($14,000 per building, up to four buildings)

Up to 50% of those costs, to a maximum of $2,000 per charger, and $14,000 per workplace.
A business can apply for a maximum of four of their workplace sites, resulting in a maximum project rebate of $56,000.

Up to $130,000 for public DC Fast Chargers plus additional funding for Level 2 Stations
Businesses, non-profits, local governments, Indigenous communities or public sector organizations may apply
Get "plugged in" to updates, news and opportunities for input on electric vehicle initiatives in Saanich by signing up to our EV Newsletter.