Our Urban Forest Strategy [PDF - 1.2 MB] offers a long-term plan to achieve a sustainable urban forest.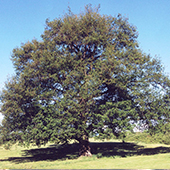 Our urban forest includes all trees and their ecosystems within Saanich.
In parks and private lands.
On commercial and institutional lands.
Along highways, roads and trails.
Throughout open spaces in the community.
The Vision
"The urban forest in Saanich is a highly valued asset comprised of a rich and diverse forest that is widely recognized and appreciated for the contribution that it makes to our community and to our sustainable environment."
Our Strategies
Grow the urban forest canopy.
Amend the Tree Preservation Bylaw [PDF - 116 KB [PDF - 214 KB] – Completed in 2014.
Develop urban forest guidelines.
Integrate the strategy with other Saanich and regional initiatives.
Inventory the urban forest – land cover mapping completed in 2012.
Develop an urban forest operations program
Engage the community.
We will implement the Urban Forest Strategy over time through Strategic and Departmental Plans and through the budget review process.