A Significant Tree can be: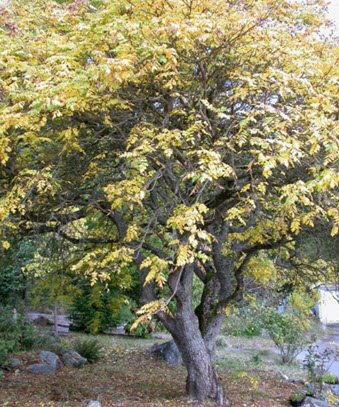 Outstanding specimen;
Rare species;
Historical significance;
Significant row or grove;
Landmark;
Wildlife habitat.
We have more than 150 Signficant Trees [PDF - 720 KB] in Saanich.
Significant Tree - Grant Program Guidelines
Property owners with a Significant Tree on their private property can apply for grants to assist with a portion of tree maintenance costs, including:
Hazard abatement (provided the tree can be retained);
Pruning/bracing;
Tree health care.
The grant may cover up to 50% of these costs.
Am I eligible for a Significant Tree grant?
You may be able to receive a grant if you meet all of the following criteria:
You have a designated Significant Tree on your private property;
Your property taxes are not in arrears;
The works are to improve the health and safety of the tree;
You have homeowner's insurance for your property.
How do I apply for a Significant Tree grant?
Send us a completed application form, accompanied by supporting documentation and photos.
Download the grant program application form [PDF - 33 KB].
Owners may only apply ONCE each fiscal year per property. Each application may contain more than one project.
You can apply for emergency tree work any time.
What do I need to provide with my Significant Tree grant application?
A copy of an approved tree permit from Parks.
Three estimates for the proposed work as outlined in the tree permit from Parks.
Photos of your tree before the work starts. See Photograph Guidelines below.
Where do I send my Significant Tree grant application?
Send your completed Significant Tree Grant Program Application Form [PDF - 33 KB] to:
Saanich Parks
Attn: Significant Tree Grant Program
1040 McKenzie Ave
Victoria BC V8P 2L4
E-mail: parks@saanich.ca
Fax: 250-475-5525
The approved work on my Significant Tree is done - now what?
Parks staff needs to inspect the work. E-mail us at parks@saanich.ca or call 250-475-5522.
The following will be required:
A completed Declaration of Project Completion form [PDF - 31 KB].
A copy of the paid invoice.
Photographs of the completed project. See Photograph Guidelines below.
When do I get the grant money?
You'll receive payment once we have received all of the required information, approved the grant request and submitted these documents to the finance department. Please note that this could take several weeks to process.
Photograph Guidelines
Photos must be in colour. We accept both prints and JPEG files.
We require photos of the tree before starting and after finishing the work.
How We Choose Significant Trees
We accept nominations for trees to be considered significant from:
Public;
Saanich staff;
Environment and Natural Areas Advisory Committee (ENA) members.
During this review, we consider the species, location, health and structural condition of the tree. When a tree is deemed significant, a brass identification tag is attached to the trunk of the tree in a prominent location.
Do you think a tree qualifies?
Complete our nomination form [PDF - 172 KB].
The current owner of the property that the nominated tree is on must approve any nomination and sign off on the application form. Incomplete application forms will not be reviewed.
Don't forget that many trees in Saanich are still considered protected. We have 8 specific species, as well as every tree with a diameter of 60cm or greater is considered protected. Check out the Tree Protection Bylaw for more info.