Saanich is currently developing an Environmental Policy Framework that is referred to as Resilient Saanich. Resilient Saanich will consider existing and potential future policies, plans, and programs to integrate sustainability and the natural environment.
Milestone Two
The initiative is currently in Milestone Two. See the State of Biodiversity Report webpage and the Biodiversity Conservation Strategy webpage.
Current: A Community StoryMap engagement process has been open since July to help inform the Biodiversity Conservation Strategy development and the Urban Forest Strategy Update. Tell us about trees and biodiversity in Saanich that matter to you!
Update: Saanich Council has endorsed Resilient Saanich Principles and Goals, pending further input from the W̱SÁNEĆ Leadership Council.
Milestone One (Completed)
Information from the Milestone One public engagement period can still be viewed at: Resilient Saanich Virtual Open House. Also see the Public Engagement Report [PDF - 17 MB] included in the Milestone One progress report that went to Council August 9, 2021. If you would like to see the whole progress report with appendices that went to Council, please see the Council minutes for August 9, 2021.
You Can Receive Updates and Participate
The framework development and consultation process will take place until spring 2023. If you would like to be involved and kept informed, please subscribe to Resilient Saanich e-Bulletins. As a subscriber, you will receive an email whenever there are project updates and opportunities to participate. See the Resilient Saanich Updates page for past e-Bulletins and other information.
Resilient Saanich Process
The Resilient Saanich Technical Committee Terms of Reference that guide this process were updated through a report to Council on August 22, 2022. Terms of Reference include a work plan for Milestone Three of the initiative.
Here is where we are at in the process and opportunities to participate: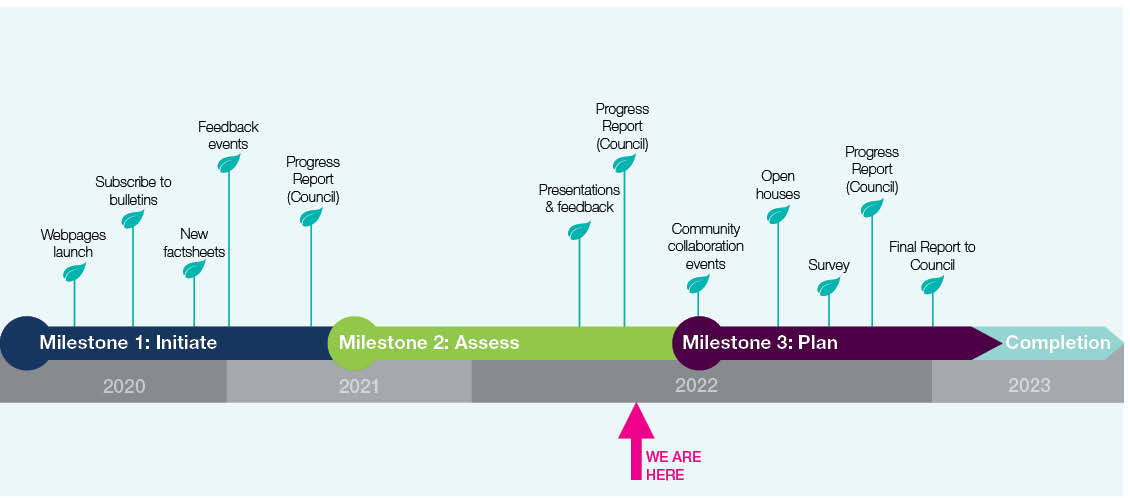 Resilient Saanich Technical Committee (RSTC)
Find out more about the Resilient Saanich Technical Committee and their work.
The Resilient Saanich Environmental Policy Framework will provide overall guidance for several plans and areas of activity, including the three areas below. Find out more about current areas of activity (below) and subscribe to the Resilient Saanich e-Bulletins.