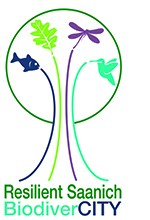 Overview
Saanich is developing a Biodiversity Conservation Strategy within the Resilient Saanich process. Please see the Resilient Saanich Technical Committee Terms of Reference for information about the process.
Diamond Head Consulting (DHC) has been contracted to develop the Biodiversity Conservation Strategy. DHC has delivered a draft State of Biodiversity Report that will form the foundation of the strategy. Saanich Council accepted the draft report as information at a March 2023 Council meeting. Public engagement will begin in April.
If you would like to stay informed, sign up for the Resilient Saanich e-Bulletins.
Learn more about the Biodiversity Conservation Strategy in this article from Saanich's Our Backyard magazine.
Open now: Participate in a Community StoryMap to inform the Biodiversity Conservation Strategy development and the Urban Forest Strategy Update.
Strategy questionnaires available April 4 - May 8::
Urban Forest Strategy questionnaire is available here.
Biodiversity Conservation Strategy questionnaire is available here.
Public engagement opportunities:
Urban Forest Strategy and Biodiversity Conservation Strategy Open House

April 18, 2023 - 5:00pm - 7:30pm

April 19, 2023 - 6:30pm - 8:00pm
Learn more about the joint Urban Forest Strategy and Biodiversity Conservation Strategy public engagement process at Saanich.ca/naturestrategies.
Why a proposed Biodiversity Conservation Strategy?
"Biodiversity encompasses all living species on Earth and their relationships to each other. This includes the differences in genes, species and ecosystems." - Government of Canada
Biodiversity enables the sustainability of life on earth. International and senior government commitments support Saanich to address management of biodiversity within our jurisdiction. A Biodiversity Conservation Strategy is proposed to address gaps and effectiveness in the protection of biodiversity in Saanich. Information related to the development of this strategy is included in the Resilient Saanich factsheets below.
What is Biodiversity?
https://www.youtube.com/watch?v=a5vi5SNQBLQ
"Biological diversity means the variability among living organisms from all sources including, inter alia, terrestrial, marine and other aquatic ecosystems and the ecological complexes of which they are part; this includes diversity within species, between species and of ecosystems".
- 1992 International Convention on Biological Diversity
Environmental Stewardship
Find out more about how you can learn more and get involved in environmental stewardship in Saanich and this ecologically rich and sensitive region we live in.
Resilient Saanich Factsheets
Factsheet #2: Biodiversity Conservation Strategy Examples [PDF - 867 KB] - learn more about biodiversity conservation strategies from other local governments.
Factsheet #3: Biodiversity Targets [PDF - 509 KB] - find out about biodiversity conservation targets from international to local levels.
Factsheet #4: Biodiversity Conservation Resources [PDF - 526 KB] - a list of biodiversity conservation resources (supporting the work of the Resilient Saanich Technical Committee) now available as a resource for the public.
Factsheet #5: Biodiversity Related Saanich Reports [PDF - 2 MB] - Further to Factsheet #4, this factsheet summarizes past Saanich reports related to biodiversity goals, objectives, and criteria.
Factsheet #6: Biodiversity & Protected Areas in Saanich [PDF - 535 KB] - Looks at how Saanich biodiversity and protected areas potentially measures up to the most commonly used governmental target.