Everyone plays an important role in the stewardship of our natural environment.
Saanich is currently undertaking a process to develop the Resilient Saanich Environmental Policy Framework to address current gaps and effectively meet the Official Community Plan (OCP) vision for the natural environment.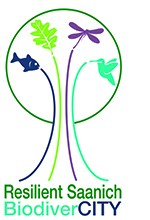 Stewardship is a key element of Resilient Saanich and recognizes the important role that residents, businesses, institutions, and governments of this region play as stewards of the natural environment. Saanich has existing programs supporting stewardship efforts. The process to create the Resilient Saanich framework proposes to enhance support for stewardship in Saanich.
Find out more about local government related stewardship options:
Factsheet #7: Environmental Stewardship Examples
Highlights types of local stewardship programs and partnerships, with current examples from Saanich and other local government jurisdictions.
Find out more about current Stewardship Programs in Saanich:
Pulling Together Volunteer Program
Saanich hosts this volunteer stewardship program, helping to protect and restore natural areas in Saanich Parks.
Find out more about the Park Ambassador pilot project in Mt. Douglas Park.
Become a member of this free Saanich program, offering opportunities to salvage native plants that would otherwise be lost to development or infrastructure projects.
Find out how you can protect, maintain and enhance wildlife habitat and native biodiversity on your property.
Invasive Species Reporting & Stewardship
When you report high priority invasive plants and animals, you help us (and our partners) to better manage and eradicate invasive species causing the greatest impact.
Saanich joins regional and provincial partners in prioritizing the management of this highly invasive and damaging species. Saanich treats all outbreaks on public lands (Parks Department) and private lands (Environmental Services). Note: private land treatment is a free program.
Sponsored by the Saanich Environment and Natural Areas Advisory Committee, seven environmental awards are presented each year.
Saanich provides information and links about co-existing with wildlife, wildlife conflict prevention and priority invasive wildlife.
More Opportunities
There are many local stewardship groups and initiatives for residents to be involved in and learn from. Here are examples of projects that Saanich is partnered with: