Would you like to increase our urban forest? Saanich offers a tree partnership program allowing you to have a new tree planted on your property frontage. We just need your help in selecting the tree species as well as maintaining it. We will purchase and plant the tree(s)!
Complete an application form with which tree you would like, along with a map of the approximate location you would prefer. Please note, due to planting setbacks, we may have to adjust the location. Check these setbacks out below.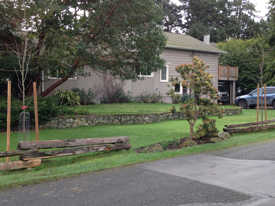 Boulevard Tree and Park Tree Setbacks:
Our goal is to increase our urban forest. We also want to plant the best tree for the best location. We do have some rules to follow when choosing a planting location. To help choose where a tree can go, make sure you consider the following:
1.5 metre in horizontal distance from the edge of an underground utility to the center of the tree. Examples of underground utilities include: storm, sewer, water, BC Hydro, Fortis Gas, Telus, Shaw, Fibre-optic.
3 metre distance from a BC Hydro Transformer installation or primary in-ground splice box.
2 metre distance from the edge of a driveway, proposed driveway or walkway.
3 metre distance from a fire hydrant as well as ensuring that there will be no future visibility issues in locating the hydrant or access issue using the hydrant ports.
5 metre distance from a BC Hydro pole or Saanich street light pole.
Trees are typically ordered late summer/early fall and planted in late fall/early winter months only.
The tree selection list [PDF - 3 MB] is our recommendations. If you have another species, let us know and we can discuss if it is a viable option. Parks will make the final decision on tree species and location of planting based on each site.