What is a bike kitchen?
A bike kitchen is a bike repair station that features a stand and tools for all types of riders and bikes. These bike kitchens provide a variety of tools for individuals that need to complete basic repairs, adjustments, and pump up their bike tires for free. Providing these tools and a bike pump can help support bicyclists and make their experience more desirable whether they are regular commuters or simply enjoying a weekend ride.
Why provide bike kitchens?
Bike kitchens provide bicyclists with a reliable and free location to complete minor repairs while making it convenient for the community to maintain safe bicycles. Multiple tools are provided and secured to the rack which also serves as a bike stand.
Who benefits?
Bike kitchens provide community members and visitors to Saanich with a convenient location to complete minor bike repairs and pump up their tires for free. These bike kitchens will also help support and encourage bicycling in our community, helping to reduce vehicles on the road and support community greenhouse gas reductions goals.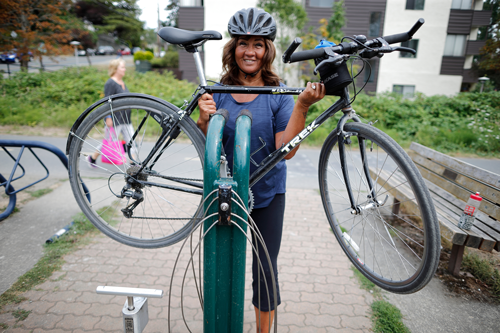 Bike kitchen locations
Municipal Hall
Gardens at HCP (parking lot by main office)
Lochside Trail at Lochside Park
Cedar Hill Golf Course
Pearkes Recreation Centre
Saanich Commonwealth Place
Cedar Hill Recreation Centre
Gordon Head Recreation Centre
Tillicum and Trans Canada Highway (currently out of service - parts on order)
Each kitchen contains
Hex key set
Torx T-25
Steel core tire levers (2)
Adjustable wrench
13/15mm cone wrench
Phillips & standard screwdrivers
Pump and tire gague (all locations but TCH and Tillicum)
To report a problem with a bike kitchen or to suggest a new location please Sustainability at 250-475-5471 or sustainability@saanich.ca.