Project Update – December 21, 2022
Gorge Road will be closed between Dysart and Tillicum roads from January 3 to March 3, 2023, in order for our contractor to complete storm drain replacement in this area.
Local traffic will be allowed access; however, delays should be expected.
Additional road closures will be required as the project continues along Gorge Road.
Thank you for your ongoing patience.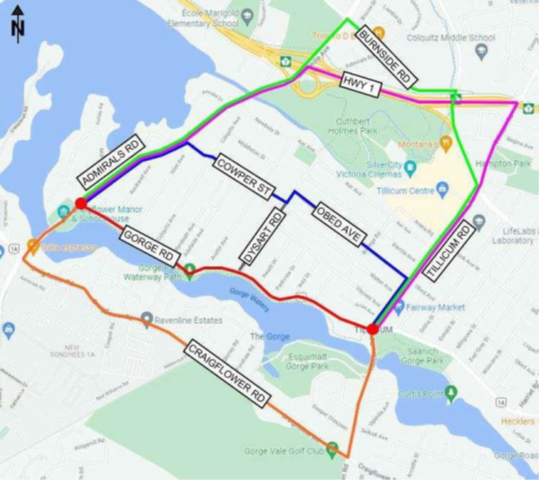 Project Update – Nov 24, 2022
Hazelwood contracting will be closing Gorge Road on Monday, November 28 for one day to undertake significant underground excavations near Parkview Drive.
Only local and emergency traffic will be permitted to access the work zone. All other traffic will be detoured via Dysart, Cowper, Obed, Admirals and Tillicum roads. See map below.
Please avoid Gorge Road West between Tillicum and Admirals if possible.
Project Update: November 16, 2022
Hazelwood Contracting will be temporarily closing the Gorge Waterway parking lot located just south of Austin Avenue (see sketch below) next week to provide a storage area for their construction equipment and materials as the project progresses along Gorge Road.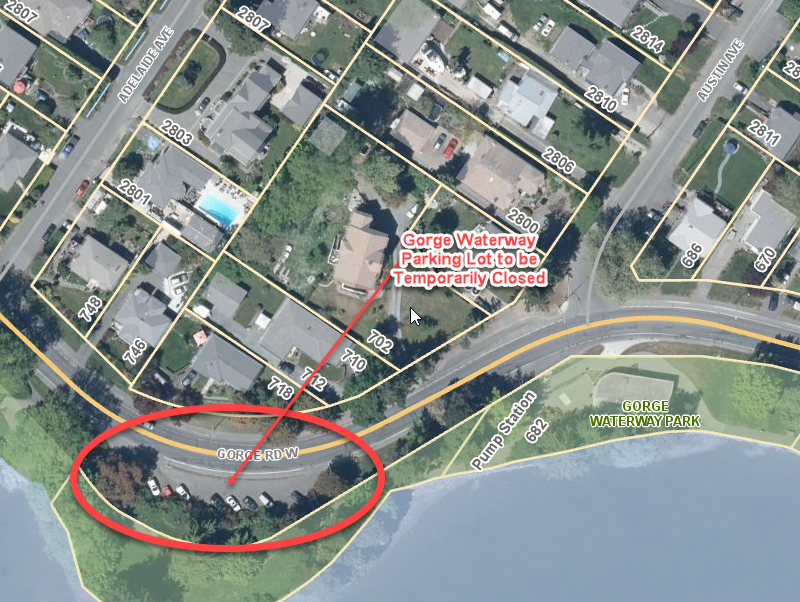 It is estimated they will use this site for at least four months.
They will be placing closed signs in the parking lot entrance shortly.
Project Update – Nov 2, 2022
What's happening now?
Saanich's contractor, Hazelwood Construction Services has been working on Gorge Road since late September and is currently replacing the storm drain pipes between Admirals Road and Colquitz Ave. They are making good progress and are on schedule at this point.
There are several Archaeological sensitive sites along this section of Gorge Road so the contractor must proceed carefully while excavating within these areas. An archaeological consultant remains on-site to monitor the soils as they are dug from the ground while the contractor excavates.
When archaeological sensitive soils are encountered, they must be separated from the surrounding soils so they can be reburied once the pipe works have been installed. Generally speaking, the archaeological sensitive soils contain layers of seashell deposits (middens) that were placed there by First Nations many years ago.
Other possible finds may include stone tools, glass bottles, clothing, shoes and in some cases human remains. None of these have been discovered on this project yet.
Project background
Storm Drainage Works
We will be replacing storm drain pipes, storm house connections and storm outfalls along this section of roadway.
Transportation Works
We will be installing a bi-directional cycle track on the south side of Gorge Road and sidewalk improvements on the north side. As part of the bike lane and pedestrian infrastructure installation, improvements to the existing east and west-bound bus stops will also be made.
Why are we doing this?
Underground Infrastructure Improvements
The replacement of underground infrastructure such as sewer, water and drain pipes is an on-going part of Saanich's upgrading of aging pipes. Although the water and sewer pipes have been replaced in the past fifteen or so years ,the drainage pipes in this area are in poor condition and well past their replacement dates.
Transportation Improvements

Gorge Road is a Major road that services approximately 9150 vehicles per day, including numerous delivery trucks. The portion of Gorge Road West from Tillicum to Admirals Road has a gap in the on-road cycling facility. There are also inaccessible curb drops along the road corridor, which discourages active travel. In addition to being a transit route, Gorge Road West only provides off-road facilities in the parkland adjacent to the gorge waterway, which does not provide access to the streets perpendicular to Gorge Road. Gorge Road between Admirals and Tillicum identified in the District strategic plan, including the Active Transportation Plan (ATP), the Official Community Plan (OCP), and the Active and Safe Routes to School (ASRTS) Program as needing improvements to active transportation infrastructure for pedestrians and cyclists. The ATP identifies Gorge Road from Harriet to Admirals as an All Ages and Abilities (AAA) cycling network.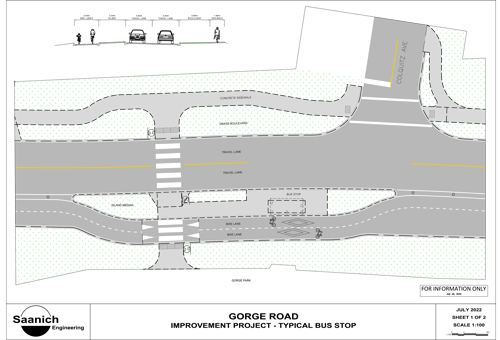 Gorge Road improvement typical bus stop.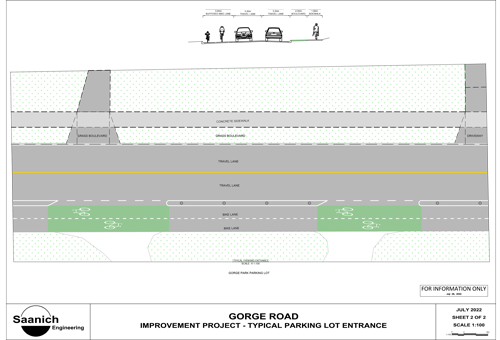 Gorge Road improvement typical parking lot entrance.
Construction Impacts
It is anticipated that single lane traffic will be initiated and on-street parking will be affected by this project. Further information regarding construction impacts will be released by Hazelwood Construction Services in future notices, closer to the construction start date.
Project Timeline
Due to delays in the tendering process our original construction start date has been moved forward and the project is now scheduled to begin in late September 2022 and it is estimated to take approximately one year to complete.
Project Location
The project is located on Gorge Road West between Admirals and Tillicum Roads.