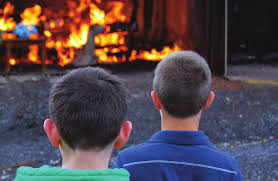 Children are naturally curious. Most fireplay comes from that curiosity. For some, fireplay is a symptom of other problems. We have a special program to help families deal with this dangerous behaviour.
What is the Youth FireSetter Intervention Program?
Educational intervention session.
Targets at-risk youth who have shown an interest in fire and/or have engaged in firesetting activities.
Focusses on responsibility, character building, decision making and fire safety.
We need student participation and parent support to help the youth succeed.
Children set fires for many reasons:
To see how matches/lighters work and how things burn.
To copy their parents or family members.
Pressure from friends.
To cope, cry for help or out of anger due to crisis or trauma.
To add risk or excitement to activities.
To cover up crimes and destroy evidence during other illegal activities.
Educational intervention aims to teach youths about:
The power of a single match.
The speed of fire and its uncontrollability.
The consequences of fireplay.
The laws surrounding intentionally set fires.
Home and family fire safety.
You can talk to many people about your concerns
Teachers
Parents or grandparents
Guardian or caregivers
Police
All contact is confidential
Specially trained fire staff hold the education interventions.
Interviews usually take place at the fire station, at your convenience.
We can refer youths to support agencies and services to make sure they get the help they need.
We've dedicated the Youth FireSetter Intervention Program to help youth and their families since 1997.
To set a Youth FireSetter interview, please contact our Fire Prevention office.