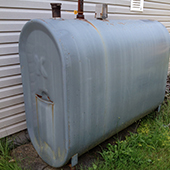 Oil spills can be enormously costly and create extensive environmental damage. Often homeowners must cover all cleanup costs since most house insurance policies don't cover oil spills. Additionally, homes using oil for heating have very high greenhouse gas emissions and therefore a bigger impact on climate than other heating fuel choices. Rebates are available to switch from oil and other fossil fuels to a heat pump. Help protect local waterways, the global climate, and save energy on your heating bills by replacing oil heating with a heat pump!
Avoid spills. Regularly inspect your oil tank and equipment [PDF - 264 KB] and remove underground tanks that you don't use.
Find out if there is an oil tank on your property
We have some historical records of oil tank installations and removals.
Contact us by phone to find out if we have any information about your property.
Removing or altering an oil tank or equipment on your property?
For detailed requirements, please read our Oil Burning Equipment and Flammable Liquid and Combustible Liquid Fuel Tank Bylaw 9265 and Amendment Bylaw 9344 [PDF - 189 KB].
In short, you need:
A permit from the Fire Department.
Trained personnel to carry out the work.
New installations require new tanks (existing tanks less than 5 years old on same property may be relocated subject to approval of Fire Department).
A Fire Department inspection of that work within 14 days.
In addition, the bylaw requires underground tanks that you don't use or that have been out of service for more than two years to be removed.
Oil tanks rendered inactive with a permit from the Fire Department before Bylaw 9265 are exempt from this requirement. However, insurance and financial institutions may require homeowners to remove any inactive tanks before they will approve home insurance or mortgage agreements.
Get information regarding rebates and incentives for changing from oil here.
More Information