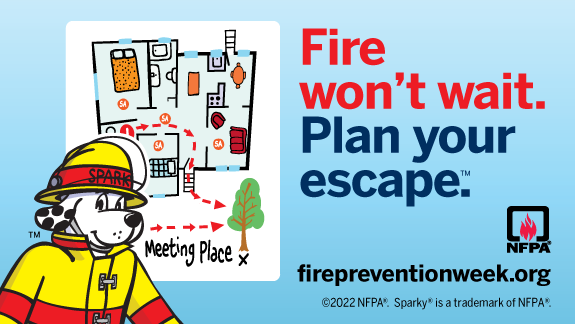 Today's home fires burn faster than ever. You may have as little as two minutes (or even less time) to safely escape a home fire from the time the smoke alarm sounds. Your ability to get out of ta home during a fire depens on early warning from smoke alarms and advance planning.
Don't Wait, Plan Your Escape
Every family should have a Home Fire Escape Plan [PDF - 3 MB].
Draw your plan, marking two ways out of every room. Include windows.
Pick a meeting place outside, well away from the building.
Tell everyone to meet there after they've escaped. Count heads and tell the fire department if anyone is missing.
Remember to call the fire department from a safe location.
Practice Your Plan
Plans are great, but practicing them is the only way to know if they work.
Hold a home fire drill.
Getting out of your own home sounds easy, but your home can look very different if it's full of smoke.
Children in particular need to practice.
Children practice drills at school, but rarely at home. Fires are far more likely to happen at home.
See our Fire Prevention & Safety at Home for more tips to Make a Home Escape Plan.