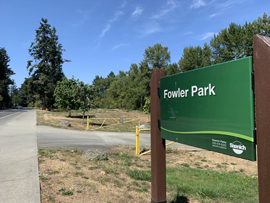 Project Update May 2023
Saanich Parks hosted an Open House on May 2, 2023 to display information and receive feedback on conceptual plans for Lochside & Fowler Parks.
View the presentation material: LochsideFowler_May2-2023_Presentation.pdf [PDF - 9 MB] Please take a few moments to complete this online questionnaire and provide feedback on these concepts.
You can also send us your comments by email to parks@saanich.ca if you prefer.
Project UPDATE April 2023
Saanich Parks continues to move forward with the planning and design work on making improvements to Lochside & Fowler Parks and we will be hosting an open house to collect your feedback on Concept Plan Options for both parks.
Drop in and meet with Saanich Parks staff at the open house:
Date: Tuesday May 2, 2023
Location: Cordova Bay 55+ Centre, 5238 Cordova Bay Road
Time: DROP-IN between 3:30 and 7:00 p.m.
Light refreshments will be available.
If you are unable to attend the Open House, the proposed options and questionnaire will be available here on May 2nd.
You can also send us your comments by sending an email to parks@saanich.ca with any comments you have about the proposed options.
First Phase
The first phase of the Planning and Design process for the Park Renewal Project has started for Lochside Park [PDF - 487 KB] and Fowler Park [PDF - 156 KB].
An online survey was avaialble until December 12, 2021. Check out the results... [PDF - 2 MB]
The Park Renewal Project focuses on replacing the aging playground and tennis courts at Lochside and utilizing the open space at Fowler Park more effectively. The sports fields are not part of this project as they are well established anchor facilities for the community.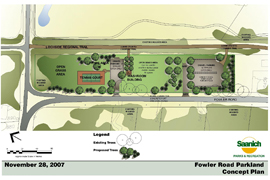 Council approved a concept plan for Fowler Park in 2008. It will form the basis for the development in the park, however, we recognize that there may be different ideas today to make that park a vibrant part of the community.
Please contact Saanich Parks by email parks@saanich.ca or call 250-475-5522 if you would like to join our email list for more information and updates on the project as we move forward with the Planning and Design process.