Find out parks that have had some recent work done!
Gore Peace Memorial Park Playground Replacement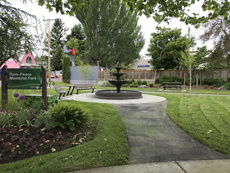 The fountain is up and running in the park and ready to welcome visitors with new bench seating and a coffee table. The fountain and park plaza are to celebrate the 100th anniversary of the park (held in 2019). Gore-Peace Memorial Park [PDF - 172 KB] was originally dedicated in 1919 when a memorial ceremony was held on July 19th to honour the young men from Saanich who did not return from WWI.
Come enjoy this rejuvenated pocket park that now features additional picnic tables, bike loops, new tree planting and a connection pathway to historical interpretive signage about Shelbourne Avenue and men and women who served in the Great War.
Horner Park Renewal Project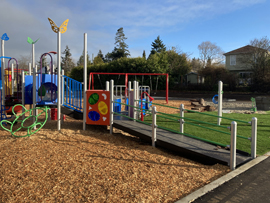 Horner Park [PDF - 105 KB] is ready for you to enjoy! Check out the new accessible playground components. Some items still coming:
planting trees and other landscaping items
completing washrooms for public access
Reynolds Park Playground Replacement Project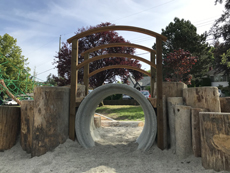 Reynolds Park [PDF - 448 KB] playground has had a refresh! Come and check out the giant net climber that stands 20 feet in the air, or climb up the log steppers and over the bridge in the sand area to the digger.
The new play equipment also includes a structure with slides for kids aged 2-5, a spring toy, spinners and swings with a saucer swing.