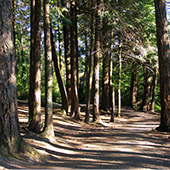 Many people enjoy Cuthbert Holmes Park for its forests, the Colquitz River, wildlife and trails. In the past, we had a number of problems related to natural areas management, trails, recreation and safety.
Council endorsed a plan to address these issues. It will protect native vegetation, remove invasive plants, accommodate recreation and help people find their way.
Colquitz River Estuary
The estuary is especially productive yet at risk. Keep dogs out of the river. Boaters should follow the guidelines below.
Boating Guidelines
Boaters can help preserve this sensitive area:
Respect critical times of year for wildlife.

Don't boat when salmon spawn (November – December).
Heron and waterfowl nest here. Stay away during critical chick-rearing times (March – July).

Only enter the river when it is deep enough. Paddles shouldn't hit the bottom.
Don't touch the eelgrass beds and shallow mudflats [PDF - 140 KB].
Stay away from the shore.