Learn more about this natural area
Oasis in the City
Cuthbert Holmes Park [PDF - 137 KB] is a favourite with bird watchers, nature lovers and dog-walkers. It boasts forests, the Colquitz River and trails. Find Cuthbert Holmes Park behind G.R. Pearkes Recreation Centre and Tillicum Mall.
Park Features
Forests
The Colquitz River
Over 120 kinds of birds and seasonal river-dependent animals
Native wildflowers such as fawn and chocolate lilies
Paved (accessible) and organic trails
The fish counting fence
Two footbridges over the river
Interpretive signs
What wildlife might I see on my visit?
Our resident barred owls and Cooper hawks
Nesting and feeding great blue herons
Pileated woodpeckers
River otters and harbour seals
Coho and chum salmon and cutthroat trout
Great Blue Heron
This park is a traditional nesting site of the heron. It's also known as a "rookery".
It held the largest rookery on Vancouver Island in 2010.
By 2011, the birds had stopped nesting here. Bald eagles were to blame.
Blue herons do still feed and rest along the Colquitz River. We expect that they will make a rookery here again someday.
Fish Counting Fence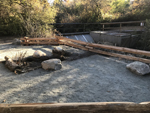 Be sure to witness a wonderful annual spectacle. Every year, salmon, cut throat trout and herring travel here to spawn. They come up the Colquitz River from Portage Inlet.
Volunteers with the Colquitz Salmonid Stewardship and Education Society record these fish at the fence.
You'll find the fence next to the Tillicum Mall parking lot.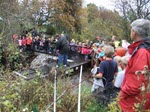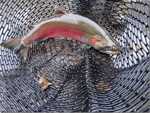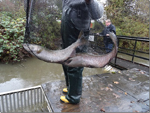 Share the Park and Petiquette
People come to the park for many reasons. We encourage you to help make sure everyone enjoys their visit.
Cyclists and pedestrians, follow good share-the-trail etiquette.
Dog-walkers, keep dogs under control or on a leash at all times. Pick up after your dog and deposit waste in cans provided. Follow good Petiquette.
Respect wildlife - this park is home to many creatures. Protect them and their habitat.

Stay on designated trails.
Avoid disturbing wildlife.
Give active heron nests lots of room.
Keep dogs on designated trails and out of the river.

To report any issues please contact CRD Animal Control at 250-478-0624 or visit their website.
Park Map
Have a look at the map to find your way around. Click on the map to make the image larger!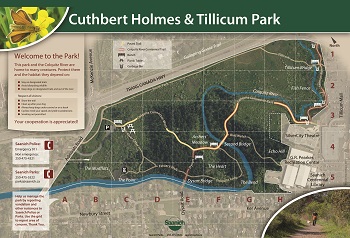 Off-Trail Travel
Please stay on the trails and out of the bush and the river.
An area where you and your pets can enjoy off-trail fun is coming. We're creating it in an area now full of invasive English hawthorn so it won't impact natural areas. You'll find it west of SilverCity Theatre.
See the management plan for details (below).
Management Plan
We use the plan to help protect the park's forests and wildlife, fight invasive plants, educate and inform visitors, accommodate recreation and help people find their way around the park.
Colquitz River Estuary - for the sake of the wildlife, please stay out!
With its attractive setting and variety of wildlife, the Colquitz River is tempting to explore from the water. However, many of the features that support its diversity are fragile and easily damaged.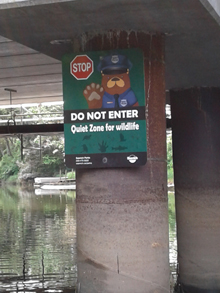 The river estuary, where fresh water meets sea water, is shallow with mud flats [PDF - 140 KB] and eel grass beds that provide important nursery habitat for fish, including salmon, and a variety of invertebrates. The tide influences this area and the river is frequently too shallow for boats to enter without disturbing this important feature.
The river also becomes very narrow, making it virtually impossible to travel on the water without disturbing the variety of birds, including the blue-listed Great Blue Heron, and other animals, including minks, otters, racoons and seals that use the river. Some animals find food and shelter here, for others the river is an important wildlife corridor, allowing them to travel to and from the resources they need to survive in an urban setting.
Help to provide refuge for the wildlife in our city.
Please - refrain from boating on the Colquitz Estuary and River at all times.
Keep your dog out of the river and vegetation and stay on the trails in Cuthbert Holmes Park.
Victoria Harbour Migratory Bird Sanctuary
A portion of Saanich's waterfront (including the Colquitz River estuary is located within the Victoria Harbour Migratory Bird Sanctuary (VHMBS). Visitors to these areas should be aware that specific rules and regulations apply to these areas, including some that pertain to dogs. For more information, please visit the Government of Canada webpage or Friends of the VHMB Sanctuary.