2022 locations
Parks will set up pop-up dog parks this summer, from 7 a.m. to 10 p.m. daily (no enforcement of operating hours) in the following locations (subject to change):
Check out the maps for each location to learn where in each park the enclosed area will be set up.
Why provide these spaces?
Concerns have arisen about the impact dogs off leash have on wildlife, natural areas, property trespass and the enjoyment of other park users. Since dogs can be off leash if under effective control in most Saanich Parks, this pilot project was in response to uphold the concerns non-dog owners have while being inclusive to dog owner needs. The program:
Provided a safe space for dog owners to allow their dog to play off leash.
Supplied a space to promote community building through similar dog related interests.
Provided an opportunity to educate pet owners about our 'Park Petiquette' information enabling dog owners to excel.
Provided opportunities for dog owners' to redirect their utilization of park facilities such as tennis courts, artificial turfs and fenced baseball diamonds.
Offered a temporary space where dog owners can have their dogs off leash while also maintaining the integrity of other park facilities.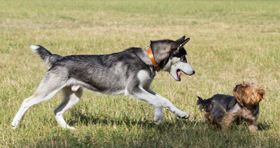 Dog etiquette
Always keep a collar on your dog
It provides information if your dog runs away, and, it allows you to hold them back if immediate control is necessary.
Bring your pup's leash with you
Allows you to remove your dog from situations before they escalate.
Clean up after your furry friend
Leaving dog waste on the ground is uncourteous. Always bring waste bags and place in appropriate garbage bins or dispose at home.
Stay attentive and be able to control your dog
Responsible dog owners know where their dog is at all times. Watch to make sure your dog isn't disrupting wildlife or inappropriately interacting with other dogs or park guests. If conflicts arises, dog owners should immediately intervene to mitigate any issues.
Ensure your dog is healthy and up to date on their vaccinations
Keep them home if they are showing any signs of illness.
Sick dogs can infect other dogs through shared water dishes and direct contact.
Respect other dogs and dog owners
Do not discipline other dogs. Always ask before engaging with the dogs of others.
2021 pilot project information
The 2021 summer pop-up dog park pilot project was approved by Council in May 2021. It ran from June 29 to September 7. An online survey was open for the duration of the 2021 pilot program. Check out the data collected from that survey [PDF - 3 MB].