October 7, 2020 - Schedules NOW POSTED! Check your collection schedule to find out when we're planning on being in your area, be sure to have leaf piles ready for the first day of your collection period. Leaf Collection Guidelines
September 24, 2020 - We're gearing up for the 2020 leaf program and will be continuing our improvement efforts on communication and scheduling. As the leaf collection program is highly weather dependent we'll be waiting until early October to post our schedule for the year. This will give us an indication of fall weather and allow us to more accurately schedule specific start dates. Our leaf program is expected to run from late October to late December.
If you have any leaves that you would like to dispose of early, here are some options available to you:
Compost them in your backyard.
Place them in your green bin with your food waste.
Bring them to our yard and garden waste drop off site.

Each fall we offer two curbside leaf collection passes along residential streets. Leaf collection dates will be added to your garbage and organics collection schedule in early October and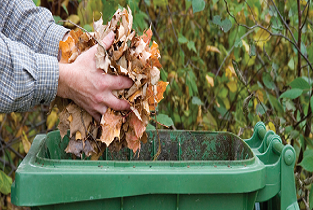 are updated throughout the program depending on area volumes.
Have questions about the leaf program? Check out our new Frequently Asked Questions
Guidelines
Leaf collection only.
Have leaves ready for the first day of your collection week.
Leaves must be in rows or piles no more than 1 metre away from the road.
No limit to number of piles or rows.
Leaves to be clear of catch basins, sidewalks, bike lanes and roadways.
Leaves must not be placed in ditches.
Collectors require unobstructed access to leaves.
We don't accept
We're not able to accept a number of items in our leaf collection program. Please put the following in your organics recycling cart:
Tree needles
Grass clippings
Prunings
Garden waste
You can bring large-volume loads to the Saanich Public Works Yard at 1040 McKenzie Ave.
Where your leaves go
We collect and mulch about 2,500 tonnes of leaves for reuse in our parks, allotment gardens and garry oak restoration projects.
We also drop off free leaf mulch for residential use on a first-come, first-served basis at three Saanich parks: