COVID 19 Updates
How often do we pick up your garbage? What do you do with an extra bag of garbage? You'll find answers to these questions and more below.
General Program Information
Frequency – Separate trucks collect organics and garbage waste on the same day every two weeks. Make sure your carts are empty before you put them away.
Keep the collection area clean and accessible – Make sure you get your carts to the curb by 7 a.m. Space them at least one meter apart on all sides. Keep them free from any obstacles. When necessary, clear the snow and ice off them.
Stay within your limits – You choose the size of your garbage and organics recycling carts. Everything must fit inside the carts with the lids closed.
Carts
We accept only Saanich-issued waste collection carts for our automated collection.
Garbage and Organics Preparation
Kitchen catcher waste bags – Only certified compostable bags are accepted. We won't collect plastic, biodegradable bags or non-organic material from your organics cart as it will contaminate the load.
How do you know you're using compostable bags? Check for one of these symbols on the packaging: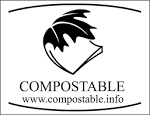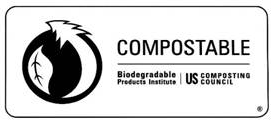 Place loose material in bags – To help keep litter from blowing around and making a mess, bag loose material in your garbage cart. Take extra care with sawdust, kitty litter and vacuum cleaner dust.
We DON'T accept any Capital Regional District (CRD) Blue Box recyclables (i.e., glass, tin, non-food soiled newsprint, non-food soiled cardboard etc.).
BC's Return-It Electronics Program – To support BC's Return-It Electronics Program, we don't accept the following items:
desktop computers
computer monitors
notebook computers
televisions
desktop printers
fax machines
For drop-off location information, visit the CRD's myrecyclepedia or Encorp's Return-It.
Hazardous waste
We don't accept any hazardous waste in your garbage or at the Public Works Yard.
Paint Cans – We DON'T accept paint cans at the Public Works Yard. For information on recycling paint and other household hazardous waste, visit the BC Product Stewardship Program or the CRD.
Batteries - DON'T throw out batteries in your garbage cart. Visit one of the many Call2Recycle® battery recycling program locations to safely dispose of rechargeable and single-use batteries.
Additional Services
Extra Garbage – If you occasionally generate extra garbage, you can buy collection stickers. If you regularly generate extra garbage, it costs less and is more convenient to order an additional garbage cart.
We'll collect up to 2 extra bags of garbage on your scheduled collection day that have Saanich-issued stickers on them.
Make sure each extra bag is no heavier than 25kg.
Place your stickered bags (max 2) with your garbage cart at the curb.
Stickers only apply to extra garbage and not to extra organics.
Stickers currently cost $3 per bag. You can buy them at Saanich Municipal Hall or any of the Saanich recreation centres.
You can also check myrecyclopedia.ca for optional garbage drop-off locations.
Extra Yard & Garden Waste – Bring extra yard and garden waste to the Public Works Yard and Garden Waste Drop-Off at 1040 McKenzie Avenue. Commercial use is prohibited and random spot checks are conducted.