Help us increase our 33% diversion rate from the Hartland landfill. Maximize your use of the organics cart and the Capital Regional District Blue Box Recycling program.
Let's reduce the amount of garbage going into the landfill.
Things to Consider When Choosing Your Carts
We collect garbage and organics recycling every two weeks. We accept yard trimmings in the organics cart. Include your grass clippings, leaves, prunings, plants and branches.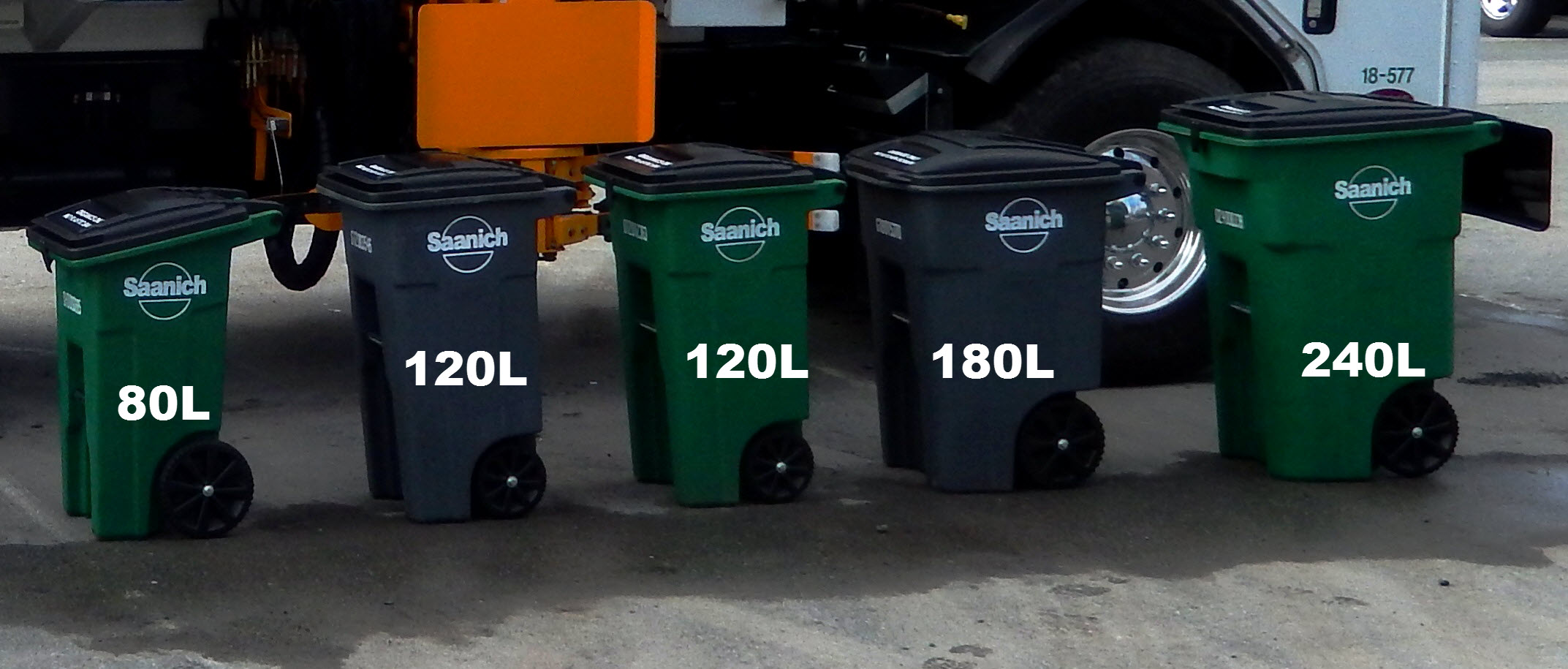 The standard size 120-litre organics recycling (green) and 180-litre garbage (dark grey) carts work for most single-family dwellings.
Are you an avid recycler who keeps a backyard compost? Choose the 80-litre organics recycling and 120-litre garbage carts.
Do you regularly visit Saanich's Garden Recycling Drop-off? Try the 240-litre organics recycling cart. You could avoid drop-off lineups.
Are you a large family or do you often need extra bags of garbage picked up? Get multiple garbage carts.
Cart Dimensions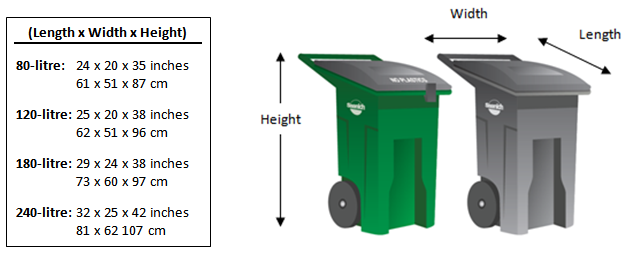 Cart Sizes and Fees

Collection Costs
Households will be charged a solid waste services base fee of $152.10 and an annual cart fee for their organics recycling and garbage carts. Those who choose larger carts will pay more. This is known as a "use less, pay less" system and is based on everyone paying a fair share of waste management costs.
Solid Waste Services Fee: $152.10 annually ($50.70 per billing cycle)
Covers the cost of delivering solid waste collection services.
Includes the Saanich Public Works garden recycling drop-off and leaf collection.
Garbage and Organics Cart Fee
Covers the ongoing cost of disposal and processing of the contents collected in the carts.
Based on the size of carts you choose.
It's not a cart rental fee.
Adding or Changing a Cart
To add a cart or switch your cart size, visit the Adding or Changing a Cart page.