The District of Saanich's Community E-bike Incentive Pilot Program launched on October 12, 2021, and offers an incentive on the purchase of new e-bikes by Saanich residents for personal transportation.
Additional Incentives Available
External funding has now become available to support a limited number of additional income-qualified incentives, which will support additional data collection for the UBC study associated with this pilot.
Seventy-five additional $800 income-qualified incentives are available. All other incentive tiers are now closed. You can join our e-bike incentive email list for updates about analysis of the pilot and any other e-bike incentive related news.
Please see eligibility criteria further down this webpage to determine if you are eligible to apply.
How to access incentives
Please read the information below carefully before applying:
Step One
Create an account on ActiveNet – this is the online registration system used for Saanich Parks and Recreation activities through RecOnline.
You are encouraged to create an ActiveNet account in advance of the incentives being made available due to the expected high demand. If you need support to create an account, you can contact 250-475-5422 or any Saanich Recreation Centre.
Step Two
Register for the $800 incentives intake: Reference 83348 – registration opens at 7AM on June 7th, 2022.
ActiveNet automatically creates a waitlist for applicants who register after available registration spots are filled. Individuals on the waitlist will be contacted in order if any of the registration spots become available (e.g. if registrants do not meet the eligibility criteria). Once all of the $800 incentives have been pre-approved, individuals still on the waitlist will be contacted to inform them that the program is full.
Step Three
Submit Pre-Approval Forms - applicants who secure a space in the program will be emailed within 5 days to submit the following information:
a pre-approval form
proof of residence in Saanich
proof of income – see information below.
Step Four
Receive Pre-approval - once the above forms have been received and reviewed for eligibility, eligible registrants will receive a Confirmation Email - confirming they are pre-approved for an e-bike incentive. This process may take up to 4 weeks. If your application is not approved you will also receive that notice within 4 weeks.
Step Five
E-Bike Purchase – AFTER pre-approval confirmation, successful registrants may either:
Apply to Saanich for a point of sale incentive from a participating vendor and purchase an eligible e-bike within 30 days of pre-approval;
Or
Purchase an eligible e-bike and submit the proof of purchase within 30 days of pre-approval to receive your rebate
E-bikes purchased before the individual pre-approval email is sent are not eligible for incentives. Discounts codes for e-bike safety skills courses will be provided to those who access the incentive.
Eligibility criteria
Eligible e-bikes
The e-bike price after any discounts/sales/promotions have been applied and before accessories, shipping, taxes, or other additional costs must be $1,800 or above. For example, an e-bike on sale for $1799.99 is not eligible.
purchased after the pre-approval confirmation date and time;
new (not used);
for personal, not commercial use; and
must meet the definition of motor assisted cycle in the BC Motor Vehicle Act, and the criteria set out in the Motor Assisted Cycle Regulation
Eligible applicants
An applicant must:
be a Saanich resident,
only apply for one e-bike incentive per household address (this includes incentives from the previous intake).
meet the income criteria shown in the income table below:
Please view the Terms and Conditions [PDF - 89 KB] for full eligibility requirements..
Income qualification
Income verification is required, as shown in the income table below, to access specific incentives.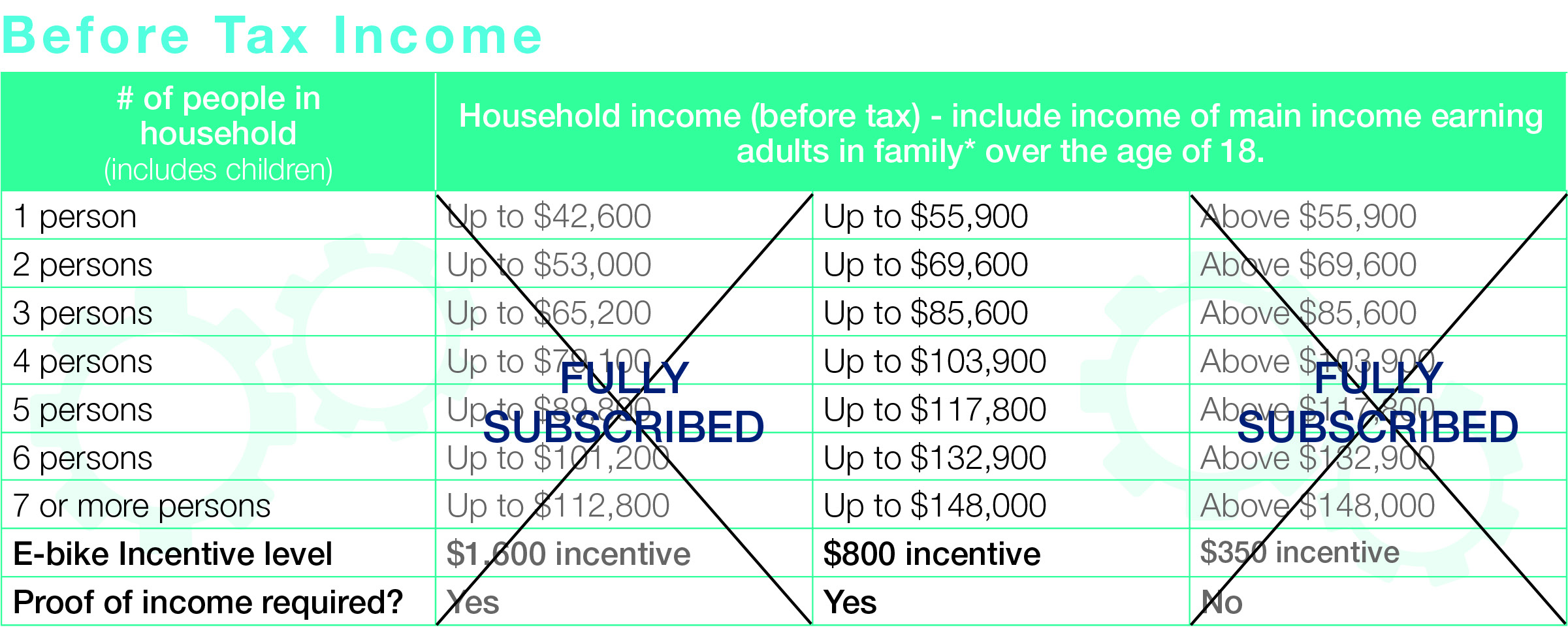 *Family members include a married or common law couple and children in the home. It does not include unrelated roommates, landlord and tenant, etc. Refer to "census family" definition by Statistics Canada for more details. Single people can report single income. In cases with multiple adult family members at the household with incomes, show the income only for the top 2 earners.
Local E-bike Vendors
The following e-bike vendors in the Capital Region have agreed to offer point of sale incentives. If you are an e-bike vendor in the Capital Region who would like to be included in this list, please contact sustainability@saanich.ca. This list is not an endorsement of any particular vendor, and is provided for the convenience of applicants to the program.
List is growing - check back soon!
For more information about e-bikes, review this e-bike factsheet [PDF - 4 MB] and vehicle cost comparison sheet [PDF - 407 KB].
Have questions? Check out the Frequently Asked Questions page.