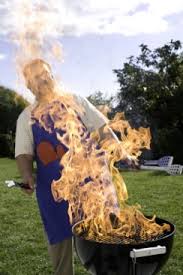 Summertime is peak season for outdoor grilling and grilling fires. Make safety your first priority to keep your summer cook-out memorable for the right reasons.
Setting Up
Barbecue grills are designed for outdoor use only. Never barbecue in enclosed areas as carbon monoxide can build up.
Set up your grill in an open area away from buildings, overhead combustible surfaces, dry leaves and brush.
Before using your grill, make sure all parts are firmly in place and the grill is on a flat surface.
Fueling
Inspect your propane grill to be sure all connections are tight before turning on the gas.
Don't open the valve all the way so you can turn it off easily if a fire starts.
If you use charcoal, apply starter fluid directly to the coals and let it soak into the coals for a minute before lighting.
If the coals start to die out, fan them to feed the flame. Do not add fluid to an already lit fire.
Cleaning Up
When finished using your propane barbecue, always make sure that you not only turn off the barbecue but also shut off the propane cylinder too.
Allow coals to cool for completely before disposing. If you are can't wait, wet the coals with plenty of water and stir them to ensure that the fire is out.
Never place coals in plastic, paper or wooden containers, only metal.
Use in Apartments & Condominiums
The B.C. Gas Safety Regulation regulates the use of barbecues in apartments, condominiums and single family homes.
Apartment building owners and condominium associations may still prohibit or restrict use of barbecues.