NEW: Community Survey
(June 22 to August 1, 2022)
Following the Cadboro Bay Village Workshop on Housing and the June 22 Online Event, this survey seeks community feedback on an expanded Village core and housing to better meet community needs, including purpose built rental housing and housing for broader range of incomes.
The Community Survey is available until August 1, 2022. Paper copies are also available on request. Thank you for your participation!
UPCOMING: Additional Online Event
July 13, 2022 - 7-9 pm
This online presentation will be an additional opportunity for those who missed the first June 22 Online Event. Please note this will be a repeat session that will include the same information and opportunity for questions and discussion as the first one. The presentation will start at 7 pm.
Please email planning@saanich.ca to register in advance.
Sign up for project notifications to be informed of upcoming events / engagement opportunities.
Online Event - June 22, 2022 (completed)
Community Workshop Results Presentation and Discussion
The Online Event provided an overview of the Cadboro Bay Village Community Workshop on Housing and emerging ideas that explored possibilities for an expanded Village core with more diverse housing options and housing for a more diverse incomes. This was a very popular event, which unfortunately exceeded 100 participants. An additional online session will take place on July 13 (see above to register). To provide feedback, we encourage your participation in the community survey noted above.
Sign up for project notifications to be informed of upcoming events / engagement opportunities.
Cadboro Bay Village Community Workshop on Housing (completed)
The workshop held on Saturday, June 11, 2022 engaged approx. 120 participants in exploring possibilities for expanding the Cadboro Bay Village Core in order to better meet housing needs in the community and include more opportunity for purpose-built rental housing and housing for a broader range of incomes.
Participation Handout information
Workshop Presentation
Process Update – March 2022
As part of the Draft Plan review, on March 14, 2022, Council considered the planning process and made the motion: "That Council direct Staff to undertake additional work to assess an expanded/more intense Village Centre with the purpose of expanding purpose built rental housing and housing opportunities for a broader range of incomes."
SEE: The Draft Plan
Since 2018, we have been working in collaboration with the community, through earlier public engagement including surveys, design charrettes and workshops in developing the Draft Plan and accompanying Draft Village Design Guidelines. The Draft Plan has been subject to public and stakeholder consultation which included both in-person open houses and online engagement including a community survey to gather feedback on the Draft Plan. This also included consultation with community stakeholder groups and council advisory committees.
Community Survey - Draft Plan (completed)
The community feedback survey took place November 13 to January 10, 2022. A total of 309 surveys were completed. The survey was encouraged as the primary tool for feedback on the Draft Plan, in addition the public was encouraged to submit additional feedback in writing. This information will be used to inform the planning process. To view the survey results, see the Public Engagement & Survey Report [PDF - 3 MB].
Thank you for your participation!
Open House - Draft Plan (completed)
November 13-25, 2021 included four open house events, seeing a total of 209 participants. The in-person events included information displays with highlights from the Draft Plan.
The same information display is available here in the Virtual Open House.

View the Public Engagement Summary Report
Community Workshop 3: Transportation (completed)
The Transportation Workshop held on February 26, 2019 included the participation of over 45 community members and stakeholders. This included people from all areas of Cadboro Bay, seniors and youth working side-by-side. The workshop explored ideas and priorities for Sinclair Road and Cadboro Bay Road and looked at neighbourhood connections and mobility improvements.
View the workshop open house display boards and the presentation.
Community Workshop 2: Natural Areas and Community Amenities (completed)
The Community Workshop on Natural Areas and Community Amenities took place January 26, 2019 at Goward House. The event included over 55 participants joining Saanich staff in a very engaging conversation and hands-on exercises and mapping, exploring natural areas, shoreline, access and recreation networks.
View the open house display boards and introduction presentation slides.
Community Workshop 1: Housing and Land Use (completed)
The Community Workshop on Housing and Land Use took place November 27 & 28, 2018. Event activities were well attended, with over 155 participants taking part in event activities that included feedback opportunities on Village Design Charrette results. The workshop involved community members in activities exploring housing options and land use in village edges and the broader neighbourhood, including Ten Mile Point and Queenswood. See the Virtual Open House that includes all the information boards displayed at the workshop.
View the opening presentation and the workshop results summary that includes the draft concept illustrations for housing and land use.
Focus on Village Design Charrette (completed)
The Cadboro Bay Village Design Charrette took place on June 19 & 20, 2018. A description of the Village Design Charrette program is available in the Design Brief. Overall, 184 community members participated in event activities, sharing ideas, and developing concepts for the future of Cadboro Bay Village. View the Village Charrette results summary of the ideas emerging from this highly engaging public design process in the Charette Final Presentation.
The work-in-progress was displayed at a highly visible storefront location in the Village from July 20 to November 16, 2018. The Village Charrette concepts were presented for more community feedback at the Housing and Land Use Workshop on November 27, 2018.
#mycaddybay
You're invited to share what makes the people and places in Cadboro Bay special to you by using the hashtag #mycaddybay on social media (Facebook, Twitter and Instagram.) Capturing these moments using photos will help illustrate the unique qualities of the neighbourhood and let you contribute to the conversation in a creative way.
Artwork of Moments in Cadboro Bay
On behalf of Goward House, volunteer artist, Paul Redchurch has created a series of playful sketches depicting Moments In Cadboro Bay, and kindly donated their use to the Cadboro Bay LAP update project. Find out more about this Goward House Initiative, and view the lively art sketches here.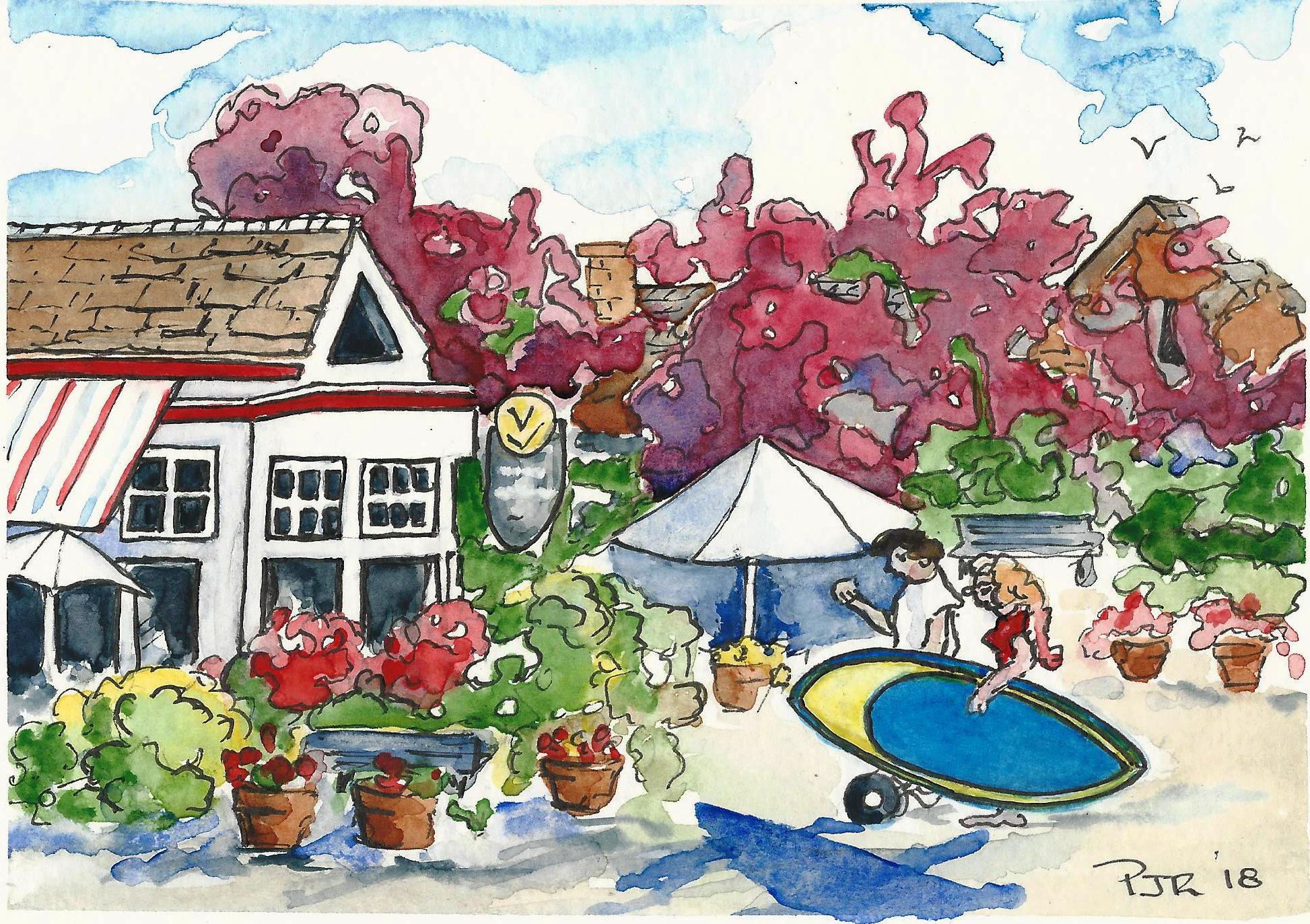 Community Vision Survey (completed)
The Community Vision Survey took place from May 12 to June 10, 2018. A total of 203 surveys were completed online and by paper copies. The input received provides valuable information from residents on how they envision the future, what are key issues and areas for improvement and priority.
Open House events (completed)
May 12 - 14, 2018 marked our first open house events, giving an opportunity for people to share ideas in person about the future of Cadboro Bay. Open Houses were well attended, welcoming close to 250 people, and featuring interactive displays and activities for kids of all ages.
If you missed the open houses visit the Virtual Open House here.
Saanich Talks: Speaker Series
Thanks to those who took part in our Saanich Talks kick-off events! With over 100 attendees at each, we're happy to see the community interest.
Council directs staff to undertake the Cadboro Bay Local Area Plan Update
November 27, 2017 - Council endorsed the Terms of Reference for the Cadboro Bay Local Area Plan update on November 27, 2017. It outlines the process to create an updated local area plan for Cadboro Bay: