Small Apartment Infill Zone and Policy
Council endorsed a new RA-1A Small Apartment Zone and Policy on May 1, 2023. The Council report provides information on how the new zone is intended to be used and in what locations. Those with specific development inquiries should contact Current Planning.
Definition of Affordability
On May 15, 2023 Council endorsed a new Definition of Affordability [PDF - 232 KB] for the District of Saanich. The definition is customized to the Saanich context, but also aligns with regional and provincial guidelines that address affordable housing. It will be updated annually and used in several housing policy contexts, including the Community Amenity Contribution and Inclusionary Housing Policy. Developing a "definition of affordability" is a Phase 1 priority action in the Saanich Housing Strategy (Action 4.4 C).
Tenant Assistance Policy
On May 1, 2023, Saanich Council adopted a new Tenant Assistance Policy (TAP). The TAP will come into effect on June 12, 2023, and will require that rezoning applicants provide support to tenants who are being evicted as a result of redevelopment or major renovation.
Housing Strategy Progress Report 2022
In early 2023, staff presented Council with the 2022 Housing Strategy Progress Report [PDF - 1 MB], providing an update on the progress of the Housing Strategy, and a review of Saanich housing data.
Neighbourhood Homes Study
One of the priority actions in the Housing Strategy is the development of a "missing middle" housing program. Saanich is calling this project "Neighbourhood Homes study" and the Terms of Reference for the project will go before Council in June 2023.
The Neighbourhood Homes study is a community planning initiative that will explore infill housing typologies with Saanich residents, that fill the gap between single-detached dwellings and apartments – the "missing middle."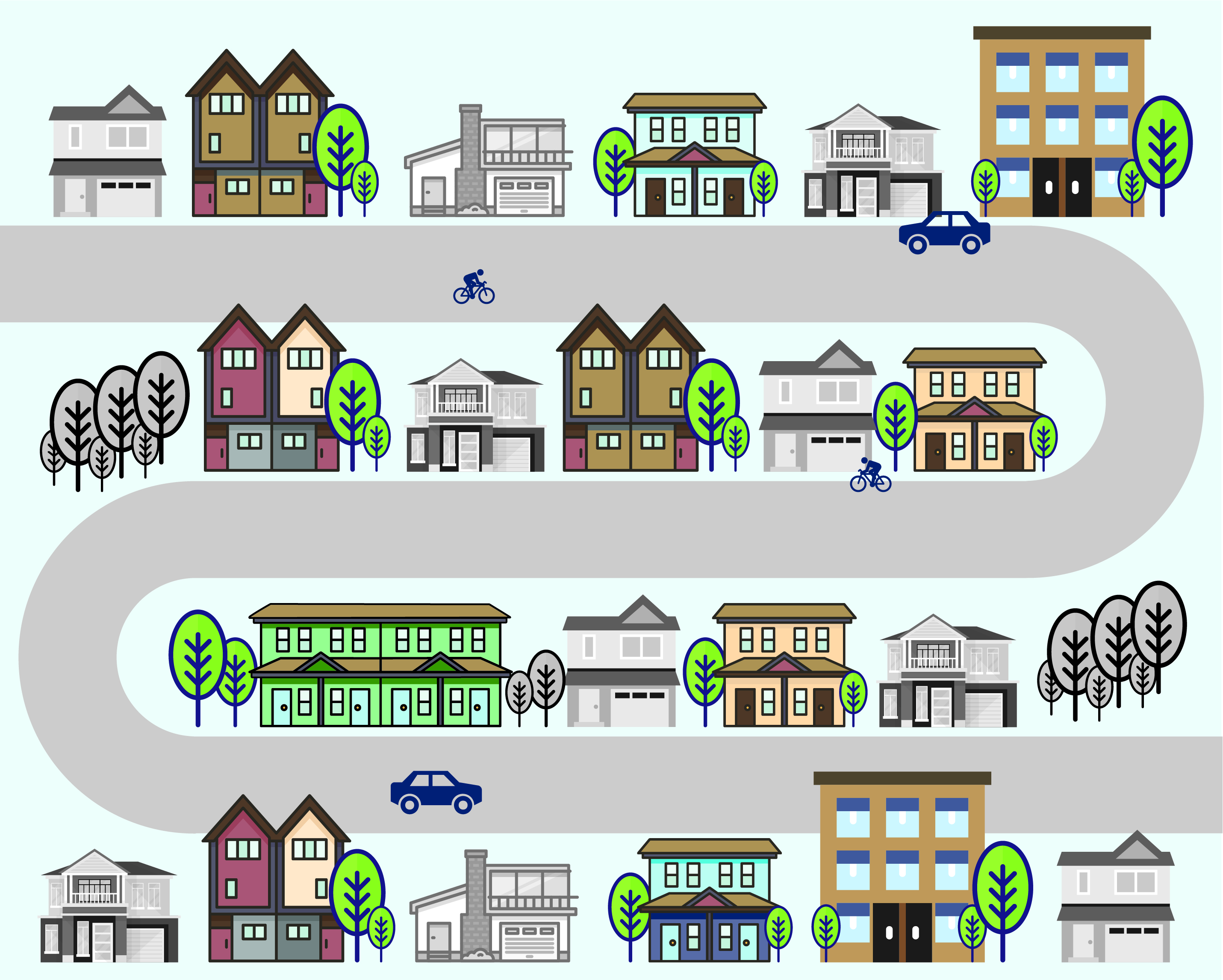 These typologies typically include duplexes, triplexes, houseplexes and townhomes, that are ground-oriented and fit well within the neighbourhood scale. The program will be implemented through tools such as policies, bylaw amendments and design guidelines. Public engagement is a key part of the project.
To receive updates on the Neighbourhood Homes study, including upcoming opportunities for community engagement, please sign up here.
Province of BC Infill Legislation
In addition to Saanich's Neighbourhood Homes study, in April 2023 the Province announced the Homes for People Action Plan that includes changes to provincial legislation to be introduced in Fall 2023 that will allow up to 4 units on a single detached lot (or 3 depending on the size/type of lot). The Neighbourhood Homes study will align with any new Provincial legislation.
Until this Provincial legislation is introduced, Saanich residents interested adding infill on their properties must continue to go through a rezoning. For more information on the rezoning process, see the rezoning process information.
Housing Strategy

The 2021 Housing Strategy [PDF - 13 MB] is a comprehensive plan that provides clear direction to improve housing opportunities and address the urgent need for housing affordability, diversity, and supply. The Strategy was developed over a 13-month process involving community consultation and recommendations from the Housing Strategy Task Force. Significant actions for 2022 and 2023 include:
Facilitate the development of non-market housing through existing or new incentives
Investigate opportunities for non-market housing on Saanich owned land
Develop a "missing middle" infill housing program
Undertake a land capacity analysis
Support new purpose-built rental housing
Establish a tenant assistance program
Learn more about the Housing Strategy and priority actions.
Housing Needs Report 2020
The
Saanich Housing Needs Report (2020)
is an important foundational research document to the Housing Strategy. The report provides baseline information on existing housing stock and community demographic data, and projects the number and size of housing units to meet existing demand and future growth over the next five years. A healthy housing supply meets the needs of Saanich residents across all parts of the housing spectrum.