Quick's Bottom Park [PDF - 231 KB] is a large municipal park located in Rural Saanich. It features quiet trails that showcase the natural beauty of the wetland marsh. The Colquitz River runs through the park and protects this area of the Colquitz River Watershed.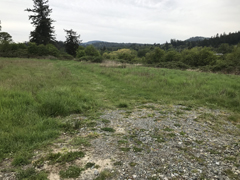 Quick's Bottom Park will become the location of a new arboretum with work occurring in multiple phases over the next few years. The arboretum will contain a diverse tree collection with a focus on native species for conservation and education purposes.
This initiative is part of the ongoing work to replant the area that saw significant tree loss from the widening of Wilkinson Road. Parks undertook natural area restoration and tree planting work at 4552 Wilkinson Road as part of the roadwork project in 2019.
We will start this arboretum project by working on the gently sloping parcel of Quick's Bottom Park off of Wilkinson Road. Future work includes a looped accessible pathway and information signs that will further enhance the visitor experience. We will also connect the upland arboretum area to the bottom wetlands existing trail network via a new pathway and boardwalk.
Check out Phase I of the concept plan.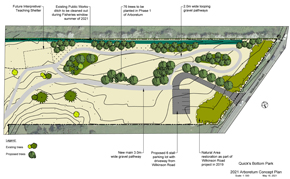 This includes a small parking area, looping pathways throughout the arboretum and the planting of approximately 76 new trees.
Due to wet weather and poor site conditions at Quick's Bottom Park, work on the arboretum project is currently on pause, including access to the parking lot. When using the trails, please stay on the designated trails as final items including natural area restoration, landscaping, tree planting, irrigation and seeding have yet to be completed. This work will most likely take place in the Spring of 2022 once the park site has improved and is viable for construction.