The Best Place to View the City
There are exceptional views from the summit at Mount Tolmie Park [PDF - 365 KB]which is part of the reason why hiking and sight-seeing are so popular in this park. Widely recognized as "The Best Place to View the City", the summit viewpoints provide an excellent panorama of Greater Victoria and the surrounding region, including:
Mount Douglas
Olympic Mountains
Race Rocks and Lighthouse
San Juan Islands
Mount Baker in the Cascade Range of Washington State
Trails
There are more than 1500 metres of trails within the park. Many lead to the summit, through meadows and up rocky slopes. They access:
Picnic areas
Viewpoint
Secluded natural areas
Great spots for bird watching and quiet contemplation
Natural Areas
B.C.'s only native oak species, the Garry Oak, is at the extreme northern limit of its North American range on Vancouver Island. The dry, exposed rocky bluffs of the park support the shallow soil of the Garry Oak ecosystem. The remnant of this ecosystem within the park is one of the best in Saanich. You'll find another tree here that's unique to our region: the broadleaf evergreen tree called arbutus. It has satiny, smooth, chartreuse bark that turns reddish-brown in the fall and peels away.
Natural History
The mottled grey bedrock of Mount Tolmie's summit and surrounding outcrops belong to a group of rocks formed in the Jurassic period, about 200 million years ago. You can see signs of the last ice age that ended about 12,000 years ago in broken rock faces below the summit:
Fine scratches called slickensides.
Shallow grooves from the glaciers that moved across their surface.
Park Information
Please treat the park with respect to preserve the Garry Oak ecosystems and other sensitive natural areas.
Do your part and:
Stay on the designated trails.
Cycle only on paved roads within the park.
Keep dogs under control.
Please pick up after your pet and deposit bags in waste containers.
Leave the wildflowers and wildlife undisturbed.
Keep our parks clean and put litter in waste containers.
Do not plant or dispose of garden waste in any park lands.
Mount Tolmie is named after Dr. William Frazer Tolmie, a biologist and prominent member of the community in the 1960's. The park has panoramic views of Saanich and Victoria. Across the water, you can see the Olympic Mountain Range and Mount Baker in the Cascades. The view alone is enough to entice you to hike to the 120m elevation of the summit.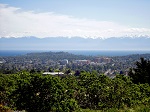 Restoration and Volunteering
Volunteers began removing invasive plants in 1994. These activities led to the formation of the Mount Tolmie Conservancy Association and in 1995, the park was re-zoned to Natural Park. Members joined the Pulling Together Volunteer program to combine efforts and have planted hundreds of trees and shrubs to continue to restore the former natural character of the park.