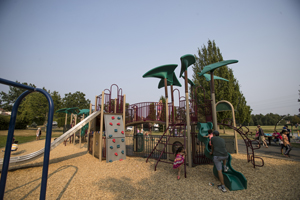 Beckwith Park has many features for the whole family. You can spend the day:
Having a picnic.
Splashing in the spray park.
Playing on the accessible playground.
Exploring the trails around Beckwith Pond.
This popular park is located on Beckwith Avenue just off Quadra Street.
Park Size: 9.0065 ha
Classification: Community Park
Local Area: North Quadra
The Frog Pond Water Park
Come and enjoy the only water park in Saanich with water spray features to help keep you cool.

Seasonal hours:
Mid-May to Mid-October 10 a.m. to 7 p.m. (weather permitting)

What You'll Find at This Park
Playground
Water park
Trails
Parking
Washroom facilities
Sport Court with Basketball and Hockey Net
Tennis
Soccer
Picnic areas
To ensure the safe environment of our parks we request pet owners have effective control of their dog or that it be on a leash or chain. Please pick up after your pet and dispose of waste properly. It must be on a leash within 10 metres of a playground.