Saanich, 1914 – 1918
Saanich Honour Roll
The Saanich Honour Roll has an interesting past. On the instructions of Saanich Council, names for the Honour Roll were collected beginning in 1916 and continuing until after the war. Richard Grenville Rice drew the document. Rice was a draughtsman who worked with architect Karl Spurgin to design the Saanich War Memorial Health Centre in 1920. (The building still stands today at 4353 West Saanich Road.)
We believe that before the Second World War, the Honour Roll was displayed at the Saanich Municipal Hall on West Saanich Road or at the Health Centre. When the municipality moved to the new Hall on Vernon Avenue in 1965, the Honour Roll did not move with it. The Foster family of Saanich fortunately salvaged the document. In the 1980s Daryl Foster, son of Saanich WWI veteran Kenneth Walter Foster, brought the Honour Roll to the newly formed Saanich Archives. The document now has a place of honour in our facility at the Saanich Centennial Library.
Historical evidence
Saanich Council minutes, June 27, 1916: Moved by Councillor Tanner "that the Engineer be authorized to draw up a Roll of Honor, after consultation with Miss K. Oldfield, for the men who have enlisted for overseas service from Saanich."
Saanich Reeve to J.C. McIntosh MP, House of Commons, December 7, 1918: "It is estimated upwards of eight hundred men have gone to the firing line from this Municipality alone."
Oral History Interview with Mr. Alan Foster, 1981: "Somewhere in Saanich there is a wonderful Roll of Honour. My brother salvaged it when the Municipal Hall was moved. It was from the First World War."
Letter from Municipal Engineer David W. Johnston to Miss K. Oldfield, 31 August 1916: "Dear Madam, Replying to your letter, I am having prepared a design for the Roll of Honor for men who have enlisted from Saanich. It is proposed to provide space on Roll for 300 names. I shall be glad to make an appointment with you some time about the middle of next week, either here or at the office of Mr. McGregor in Victoria." (Found in Engineer's Letter Book)
Daily Colonist article, 13 December 1916 (p.8): "Saanich Honor Roll is Lengthy: Over 250 Residents of Thinly Populated Municipality Give Their Services to King and Country. The following is the list of names which will appear on the Saanich Roll of Honor of men and nurses who have left for Overseas Service. It is felt that this list is not complete, and the clerk, Mr. H. S. Cowper, Royal Oak, wishes additional names, which do not appear on the list, to be sent in with full description." View article
Daily Colonist article, 5 January 1917 (p.7): "Unveil Honor Roll - Interesting Patriotic Meeting to Be Held at Royal Oak Hall This Evening. An event of more than ordinary interest in connection with patriotic work is arranged to take place this evening at the Royal Oak Hall, the occasion being a public meeting of the citizens of that district. Miss Kathleen Oldfield will unveil the honor roll, on which are inscribed the names of the 400 men from the Saanich district. Reeve McGregor will give an address on National Service. Mr. F.A. Pauline, M.P.P., and Sergt.-Major Manning, the latter one of the most successful recruiting officers in Canada, and others will speak on patriotic work. There will be a programme of music, and those having the affair in hand trust that there will be a large attendance." View article
Heal's Rifle Range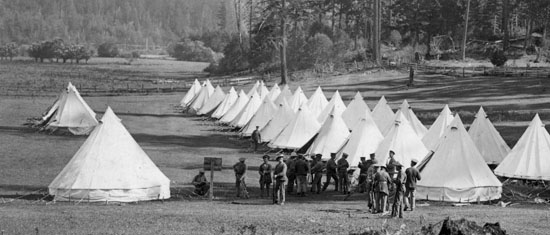 Heal's Rifle Range was once a seasonal lake and marsh. Local First Nations knew this beautiful valley as a good place to find tule reeds for woven mats and capes.
In 1860 Fred and Charlie Heal, sons of John Heal, bought portions of this valley, later known as Sections 126, 82 and 83, from the Hudson's Bay Company. They both farmed and leased the land. The Sisters of St. Ann later bought some of the Heal property and grew vegetables there for St. Joseph's Hospital.
In 1915 a proposal suggested that the land be developed as a military range for the army, partly as a solution to serious unemployment in the region. The region's mayors and reeves wrote to their Member of Parliament with urgent requests to create jobs for locals. The range began operation in 1916.
The reality of war was always present at Heal's: many soldiers trained in weaponry there, and far too many did not return. On Sept 10, 1915, the Daily Colonist noted that "Mr. Samuel Cameron, foreman of Heal's Range, has received a "Missing in Action" report for his son Kenneth, member of 50th Gordon Highlanders, 16th Division, 1st Contingent".
Heal's Range has remained an active military range throughout the years:
Militia and cadets used it after the war
Soldiers used it for grenade training in WWII.
In the 1960's, local gun clubs used the range for weekend events and tournaments.
The Commonwealth Games held events there in 1994.
The Department of National Defence now owns the range and often uses it today.
Sources:
Saanich Archives files:
Heal's Rifle Range
Heal, John
Clerk's Files: Heal
Green, Valerie. Fall 2006 Broadmead Community Association