From updating trails to repairing tennis courts, here is what else is going on in Saanich Parks.
Building Updates - Copley West Park
The building used in Copley West Park [PDF - 86 KB] by our Saanich Neighbourhood Playground Program (SNPP) and the Greater Victoria Football Association is getting a much needed refresh! Coming soon will be new doors, windows and siding. Work to start in 2022 (project delayed).
Park Updates - Cuthbert Holmes and Tillicum Parks
Members of the urban forestry and nautral areas teams will be performing tree work in Cuthbert Holmes [PDF - 218 KB] and Tillicum Parks [PDF - 171 KB] to mitigate trees near main pathways. Such work zones will be clearly marked and paths will be closed for everyone's safety while work is in progress. As a natural areas park, visitors are not to proceed off trail to detour the area. Please respect the active work zones and signs posted.
Our teams will be restoring some of the areas where trees were removed including planting new trees!
Some other exciting updates will be happening around the park too now that the McKenzie Highway interchange project is pretty much done. This includes pathway improvements, invasive Hawthorne tree removals and more restoration and plantings. We have already added new duck boxes, swallow houses and roosting nest structures around the park.
Field lighting improvements - Hampton Park
Saanich Parks in partnership with Gorge Soccer Association will be upgrading many of the field lights in Hampton Park [PDF - 122 KB] starting near the end of July 2022. Existing tungsten-halide bulbs will be replaced with modern LED lights which are a more sustainable technology and quality of light for sports. A new control box will also be installed giving operators more control over light operations with zones and dimming. The result will be reduced light spill outside of the playing surfaces, more control of light use appropriate for activity, significant energy savings, and improved safety for various sports.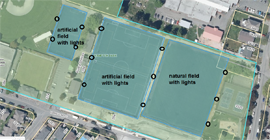 Following installation, lighting consultants and the installer will monitor and adjust lights to ensure minimal overspill of light outside of the field. The installation will involve some machinery and truck movement in the park and parking lot adjacent to the playing fields. We expect any disruptions to be minor, if any, and we thank those affected neighbours for their patience and understanding as we work to improve these assets.
If you have any questions or feedback regarding the project, please contact the Saanich Parks office at 250-475-5522 or parks@saanich.ca.
Hyacinth Park - Garry Oak meadow restoration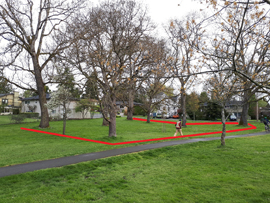 This year our team will be undertaking a Garry Oak restoration project in the north corner of Hyacinth Park [PDF - 210 KB]. Activities will include:
Delineating 3 sides of this Oak grove with a split rail boundary. We will leave the NW side open and provide some natural log/rock seating.
Leave mow strips along the adjacent property, the Daffodil frontage and the asphalt pathway.
Restoration planting this Fall within the Oak grove, including 1-10 gallon Garry Oaks.
Large woody debris placed throughout the restoration area.
Restoration signage.
Air spading to reduce historic compaction.
Playfair Park - washroom replacement
Have you heard? We are installing a new washroom building in Playfair Park later this year. The new building will have two private stalls that are open year-round and will replace the existing washrooms which are on a septic system. It will be near the parking lot off Rock St.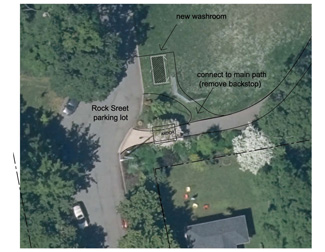 The washroom location was chosen for functionality and to avoid the damage to tree roots and infrastructure that would be necessary to locate it where the existing building is. The existing building will continue to support volunteer restoration work and Parks operations.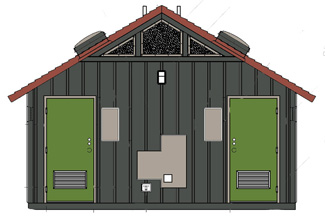 We will do our best to minimize disruption as underground power, sewer and water services are brought to the new building site, and the new washroom is installed – thank you for your patience.
Contact us at parks@saanich.ca for more information.
Trail Upgrades - Rudd Park
The crews will be replacing the asphalt pathways in Rudd Park [PDF - 148 KB] as they are lifting and heaving. Work is to be done in 2022.