From updating trails to repairing tennis courts, here is what else is going on in Saanich Parks.
Echo Drive Boat Launch - Gate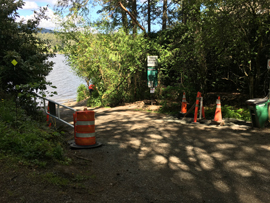 As approved by Saanich Council, a new access gate is being installed at the Echo Dr boat launch to Prospect Lake. The gate will be opened by 6 a.m. and closed at 11 p.m. daily. As with all gates, actual times may vary based on when the contractor can arrive.
Richmond Rd - trail access improvements
Our construction team will be replacing the old stairs to the greensapce located off Richmond Rd. A gently sloped hardscape surface and new natural plants have been added.
Trail Upgrades - Rudd Park
The crews will be replacing the asphalt pathways in Rudd Park [PDF - 148 KB] as they are beginning to lift and heave.