From updating trails to repairing tennis courts, here is what else is going on in Saanich Parks.
Building Updates - Copley West Park
The building used in Copley West Park [PDF - 86 KB] by our Saanich Neighbourhood Playground Program (SNPP) and the Greater Victoria Football Association is getting a much needed refresh! Coming soon will be new doors, windows and siding. Work to start March 2021.
Park Updates - Cuthbert Holmes and Tillicum Parks
Members of the urban forestry and nautral areas teams will be performing tree work in Cuthbert Holmes [PDF - 218 KB] and Tillicum Parks [PDF - 171 KB] to mitigate trees near main pathways. Such work zones will be clearly marked and paths will be closed for everyone's safety while work is in progress. As a natural areas park, visitors are not to proceed off trail to detour the area. Please respect the active work zones and signs posted.
Work for the winter is now complete. Additional work will occur late Fall 2021. Then our teams will be restoring some of the areas where trees were removed including planting new trees!
Some other exciting updates will be happening around the park too now that the McKenzie Highway interchange project is pretty much done. This includes pathway improvements, invasive Hawthorne tree removals and more restoration and plantings. We have already added new duck boxes, swallow houses and roosting nest structures around the park.
Electric Vehicle Charging Installation in Saanich Parks!
Work is underway installing electric vehicle (EV) charging stations across Saanich. This includes some at Saanich Parks and Recreation facilities! Site work starts in February, with installation starting in April. Sites include:
Hampton Park (April)
Cedar Hill Golf Course (April)
Cedar Hill Recreation Centre (April)
G.R. Pearkes Recreation Centre (April)
Cadboro-Gyro Park (April)
Mount Douglas Park (May)
Saanich Commonwealth Place (May)
Beckwith Park (June)
Gate Installation - Layritz and Glanford Parks
A new entrance gate to Layritz Park [PDF - 426 KB] is in place. This was made with beautiful posts made from a fallen sequoia tree. The same tree is the base for the park sign located in the parking lot area.
Glanford Park [PDF - 138 KB] will also get a gate for its parking lot. Just waiting on the gate to arrive!
Parking Lot Improvements - Hampton Park
Hampton Park [PDF - 122 KB] has been getting lots of attention lately! Some sewer line work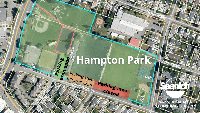 was done; updates were done to the sidewalk along Hampton Rd; Gorge Soccer Association resurfaced the artificial turf field; and next up, parking lot updates! Our team will be reconfiguring the east end of the parking lot. This includes adding additonal spots to help out during busy periods, and updating the entrance at the base of Orillia. Portions of the lot will be closed during construction. Parking still available by the club house, near the ball diamonds off Tillicum and along Hampton Rd.
There will also be a new pathway running along the north edge of the fields to connect up with Seaton Street. The location will be where the recent sewer line replacement occurred.
Hyacinth Park - Garry Oak meadow restoration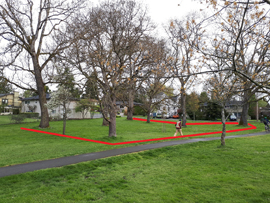 This year our team will be undertaking a Garry Oak restoration project in the north corner of Hyacinth Park [PDF - 210 KB]. Activities will include:
Delineating 3 sides of this Oak grove with a split rail boundary. We will leave the NW side open and provide some natural log/rock seating.
Leave mow strips along the adjacent property, the Daffodil frontage and the asphalt pathway.
Restoration planting this Fall within the Oak grove, including 1-10 gallon Garry Oaks.
Large woody debris placed throughout the restoration area.
Restoration signage.
Air spading to reduce historic compaction.
Lochside Park sand field renovation
The sand-based grass soccer field at Lochside Park [PDF - 487 KB] is being renovated. The actual dirt base is being replaced with a new compost/soil mix, irrigation repaired and new turf laid on top. Work should be done in time for Fall soccer to return! Will improve field drainage and reduce field closures.
Playground Accessibility Improvements
Construction to upgrade and provide accessibility improvements at various playgrounds is underway. The list of playgrounds is Brydon Park, Braefoot Park, Gorge Waterway Park, Mount Douglas Park and Hyacinth Park.
Improvements may include replacement of sand to accessible wood engineered fibre surfacing, installation of a concrete ramp into the playground and installation of an accessible swing. Some playgrounds will also receive a transfer station onto a structure or an additional standalone piece of play equipment.
Layritz Park will also have a concrete ramp built into the existing playground.
Work will take about 2 weeks per site. We will be closing the playground while work is underway.
Thank you for your patience as we improve these playgrounds for all to enjoy!
Rainbow Park - Engineering drain pipe work
Saanich engineering is replacing some underground infrastructure near Rainbow Park. One of the pipes goes right underneath the park! Work starts late Spring/early Summer and may take up to two months overall. They hope the disturbance to the park will be minimal, but heavy equipment will need to be on site. Areas under construction will be fenced off. Please stay out of this (or any!) fenced area.
Trail Upgrades - Rudd Park
The crews will be replacing the asphalt pathways in Rudd Park [PDF - 148 KB] as they are lifting and heaving. Work is to be done in 2021.