In 2019 Saanich purchased the former BC Hydro lands near the Royal Jubilee Hospital to create a new park currently known as King's Road Community Nature Green Space. Community fundraising efforts and financial help from other agencies including the City of Victoria and the District of Oak Bay contributed to its purchase.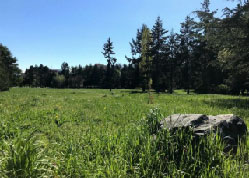 King's Road Community Nature Green Space is 2.2 ha (5.4 acres) with open space, and an interesting variety of trees including formally planted evergreens that frame a pathway along the property's west boundary. Bowker Creek also runs along the west edge of the park - one of the few stretches of the creek that has not been enclosed in underground culverts.
Public consultation is now complete
The Parks Division had very good turn out at 2 public events where we heard the community's Vision, and the important values that will guide the park's future. We've also learned how the community would like to see the park managed in the long term.
Park Vision: an in-person meeting was held on November 15, 2022
A Vision statement describes that the park's ideal future will be like. Goals make the Vision a reality.
View the presentation, Themes and other supporting information from the event.
Also check out the Vision Survey results.
Management Model: a virtual meeting was held on December 6, 2022
Management models outline how a park is managed on a day-to-day basis, and the roles and responsibilities of the people involved.
You can review the presentation materials and the Management Model survey results.
Check out the summary of public consultation compiled.
Vision Statement, Management Goals and Management Model
Saanich Council endorsed the following Vision Statement, Management Goals and Management Model at their June 5, 2023 meeting:
Vision Statement – adopted
'The (name to be determined) is a peaceful park that benefits people and the environment. The park includes Bowker Creek, native plants and trees, open spaces, accessible trails, and informal recreation spaces that holistically support wildlife habitat, robust stormwater management, and opportunities for people to connect with each other and nature.'
Park Management Goals – adopted
Restore Bowker Creek to be ecologically robust and resilient for generations to come.
Improve stormwater management and ­­mitigate flooding.
Enhance and steward biodiversity and wildlife habitat.
Contribute to the urban forest.
Include climate change adaptation and mitigation measures.
Provide access to nature and learning opportunities.
Create safe and accessible trail connections.
Park Management Model – adopted
The Municipality of Saanich in partnership with community-based group.
Next steps
Parks will connect with interested community members to determine their involvement in the partnership model.
Get involved
Contact us at parks@saanich.ca or 250-475-5522 if you would like to be involved in the partnership model, or have any other feedback or questions.