In 2019 Saanich purchased the former BC Hydro lands near the Royal Jubilee Hospital to create a new park currently known as King's Road Community Nature Green Space. Community fundraising efforts and financial help from other agencies including the City of Victoria and the District of Oak Bay contributed to its purchase.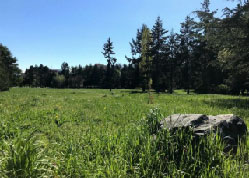 King's Road Community Nature Green Space is 2.2 ha (5.4 acres) with open space, and an interesting variety of trees including formally planted evergreens that frame a pathway along the property's west boundary. Bowker Creek also runs along the west edge of the park - one of the few stretches of the creek that has not been enclosed in underground culverts.
Public consultation underway!
We know that the community has informally used and enjoyed this space for years, and we want to ensure that the area continues to enrich the neighbourhood. We've hired professional consultants to hear your thoughts and ideas about the park.
We invite you to register to attend either or both of two upcoming public events:
Park Vision: Tuesday, November 15, 6:30 – 8:30 p.m. (complete)
View the presentation [PDF - 8 MB] that our facilitators shared about the Vision for the park. This session was to help finalize a Vision statement describing what the park's ideal future looks like. Also identifying the goals that will make the Vision a reality.
View the Themes [PDF - 71 KB] that emerged, and other supporting information [PDF - 2 MB] from the event.
Take our Vision Survey before December 4th to tell us what King's Community Nature Space should be like in the future
If you prefer, you may contact us to answer these questions over the phone.
Management Model: Tuesday, December 6, 6:30 – 8 p.m. Registration deadline December 2.
On-line meeting via Zoom. You will require a computer with audio and visual capability, and an internet connection, to participate in this event. The link will be posted the day of the event.
Management models outline how a park is managed on a day-to-day basis, and the roles and responsibilities of the people involved. Different kinds of models will be reviewed. Staff will use community input from this meeting to guide recommendations put forward to Saanich Council for consideration.
Register
Email us at parks@saanich.ca, or call us at 250-475-5522 to register.
Unable to Attend?
Find presentation material and a recap of each event on this webpage. On-line surveys will also be available for a limited time after each event.
Other ways to stay involved
We'd love to have your input – sign up for updates on this planning and consultation project. You can also keep checking this webpage for updates!
Contact us at parks@saanich.ca or 250-475-5522 with any other feedback or questions.