In 2019 Saanich purchased the former BC Hydro lands near the Royal Jubilee Hospital to create a new park currently known as King's Road Community Nature Green Space. Community fundraising efforts and financial help from other agencies including the City of Victoria and the District of Oak Bay contributed to its purchase.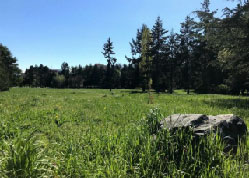 King's Road Community Nature Green Space is 2.2 ha (5.4 acres) with open space, and an interesting variety of trees including formally planted evergreens that frame a pathway along the property's west boundary. Bowker Creek also runs along the west edge of the park - one of the few stretches of the creek that has not been enclosed in underground culverts.
Public Consultation is now complete
The Parks Division had very good turn out at 2 public events where we heard the community's Vision, and the important values that will guide the park's future. We've also learned how the community would like to see the park managed in the long term.
Park Vision: an in-person meeting was held on November 15, 2022
A Vision statement describes that the park's ideal future will be like. Goals make the Vision a reality.
View the presentation [PDF - 8 MB], Themes [PDF - 71 KB] and other supporting information [PDF - 2 MB] from the event.
See the Vision Survey results here [PDF - 514 KB]
Management Model: a virtual meeting was held on December 6, 2022
Management models outline how a park is managed on a day-to-day basis, and the roles and responsibilities of the people involved.
See presentation materials [PDF - 4 MB] and the Management Model survey results [PDF - 633 KB].
Next steps
A summary of public input will be posted here soon.
In the coming months Parks will report to Saanich Council on the park Vision and Goals, and recommended management model. The date of the meeting will be posted here when it is known.
Other ways to stay involved
We'd love to have your input – sign up for updates on this planning and consultation project. You can also keep checking this webpage for updates!
Contact us at parks@saanich.ca or 250-475-5522 with any other feedback or questions.