Check out the improvements to coming to Cuthbert Holmes Park. Work is happening over several years. Main map of work (or check it out in pdf) with details below for each section.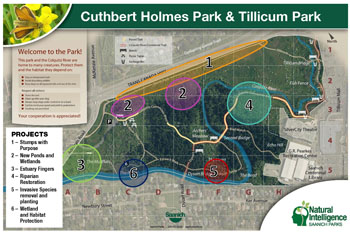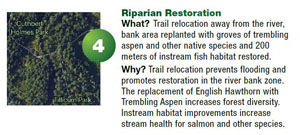 More on riparian restoration (circle 4 on above map)
This project will remove many invasive English hawthorn trees and replace them with high-quality habitat native tree species. The resulting longer blooming period and greater range of habitat options will increase the variety and number of birds and insects that the park can support - a boost to the local area's biodiversity.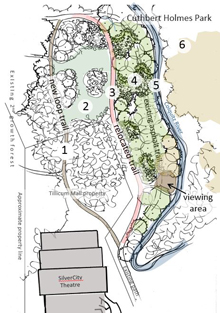 Project components will be completed over 5 years and will further goals set out in the Cuthbert Holmes/Tillicum Parks Management Plan:
New loop trail and open space will enhance recreational opportunities, and discourage previously concealed unwelcome activities.
Removing invasive English hawthorn to create open space and reduce its spread to other areas. English hawthorn trees removed will be replaced with native tree species.
Relocating main trail will avoid seasonal flooding.
30m native plant buffer will improve habitat and river health.
In-stream work will support salmon, cutthroat trout and other native fish and wildlife. Associated viewing area promotes Natural Intelligence.
New Trembling Aspen Woodland will expand the park's habitat range and improve overall park ecology.
This project is funded by Ministry of Transportation and Infrastructure compensation funds related to the McKenzie Interchange Project.
Saanich crews and machinery will be on site as project components are completed. Please respect work zone barriers.