Beautiful Prospect Lake is a popular swimming, fishing and boating destination.
Please help to keep the lake enjoyable for everyone. Respect natural areas and private property. Follow the regulations [PDF - 14 MB].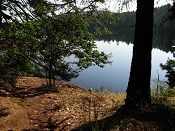 Access
There are four public lake access points:

Seasonal toilet locations
Boating and waterskiing
Be respectful of other lake users and nearby residents. Keep noise levels down and follow boating speed and direction regulations.
Fishing
The lake is a popular fishing destination. It's stocked with 1,000 – 5,000 rainbow trout each year.
Protect sensitive habitat and lake health
Travel slowly in shallow waters.
Do not disturb wildlife.
Avoid contact with underwater vegetation.
Minimize your boat wake – it can cause shore line erosion.
Follow pack it in, pack it our protocols – garbage is deadly to fish and birds.
Do not throw fish waste overboard.
Learn how to keep the lake clean and healthy [PDF - 59 KB].
Natural areas restoration
Prospect Lake has a number of natural areas and an active volunteer community. The Todd Creek riparian area in Whitehead Park is an example of the good work they do.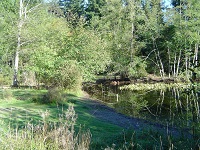 The Prospect Lake Preservation Society (PLPS)
Established in 2008, the PLPS has worked to:
Improve the lake's biological health
Reduce invasive species (bull frogs, golden willow, Eurasion milfoil)
Promote safe lake recreation
Improve community lake access and community communication
Friends of Tod Creek Watershed
The Friends of Todd Creek Watershed support many restoration projects around the Prospect Lake watershed area.
The Prospect Lake District Community Association
You can get more information about the lake and its community from the community association.