The unique Cadboro-Gyro Park has a large waterfront that attracts residents throughout the region. It is within easy walking distance of Cadboro Bay Village and the University of Victoria.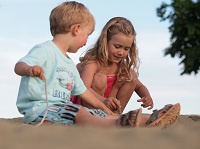 Sandy, log-strewn beach.
Beach-themed playground.
Iconic giant octopus, salmon and sea serpent play sculptures.
Zip-line.
Washroom and water bottle filling station.
Boat launch for non-motorized craft.
Picnic areas.
Wheelchair accessible beach ramp (seasonal).
Tennis court.
Parking.
Enjoy the beautiful view of Cadboro Bay, Strait of Juan de Fuca and the Olympic Mountains.
Playground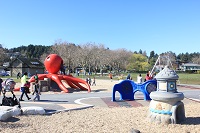 The playground, constructed in 2014, built upon the unique character of the existing concrete sculptures in the park. The giant octopus, salmon and sea serpent known as Cadborosaurus are iconic to the park. Combine those with the accessible ship, shipwreck, swings and zip-line, children and adults alike can create their own adventures and memories.
Legend of the Sea Serpent
It's a mystery born in the 1930s. A number of reports surfaced sighting a sea monster in Cadboro Bay. Witnesses describe it as a 10 metre (30 foot) long serpent with the head of a horse. In the early 1930s, a Times newspaper report affectionately named it 'Caddy', short for Cadborosaurus. Caddy has inspired books and even an episode in the Canadian television show, Mystery Hunters. While we could debate the existence of an actual sea creature for decades, one fact remains: we'll be seeing and enjoying the concrete, cartoon-like and climbable likeness of 'Caddy' for a long time to come!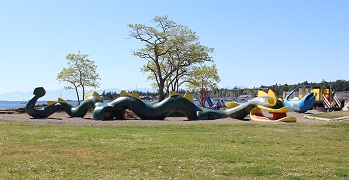 History
The park received its name from Cadboro Bay and the Gyro Club, which bought the original 4.37 acres of land. In 1954, the Club donated the land to Saanich for a park. In 1961, Saanich began purchasing adjacent property. Today the park is more than six hectares (15 acres) in size.
Archival documents suggest the Lkwungen First Nations had lived on the bay from approximately 100 BC to 1911. Two families, the Chilcowitch and Chekonein, traditionally lived in temporary settlements found in protected bays along the waterfront. These ran from Turkey Head (present day Oak Bay Marina) to Cordova Bay (also known as Sungayka). It also included campsites along the western portions of San Juan Island.
After 1843, these smaller villages were largely abandoned for the security and trading opportunities gained by being closer to the new Fort Victoria.
Dogs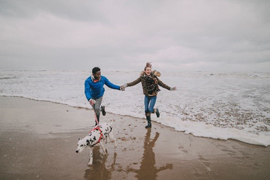 Cadboro-Gyro Park and Cadboro Bay Beach is a dog on-leash area. Dogs must be on-leash at all times of the day, 12 months of the year. Learn more about Petiquette in Saanich.
To report any issues please contact CRD Animal Control at 250-478-0624 or visit their website.
Victoria Harbour Migratory Bird Sanctuary
A portion of Saanich's waterfront (including all of Cadboro Bay) is located within the Victoria Harbour Migratory Bird Sanctuary (VHMBS). Visitors to these areas should be aware that specific rules and regulations apply to these areas, including some that pertain to dogs. For more information, please visit the Government of Canada webpage or Friends of the Victoria Harbour Migratory Bird Sanctuary.