Want to find an area to use your bike? Check these out...
McMinn Park Bike Skills Area
A small dirt-based pump track is available for riders!
Find it at McMinn Park.
Tripp Station Youth Park
The Tripp Station Bike Park [PDF - 199 KB] features the paved Powerline Pumptrack, Dynamo Dirt Jumps and various other skills trails around the park all named after electrical terms to add to the character of the park.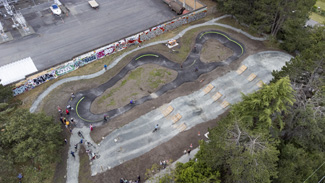 The design considers rider progression, maintenance, safety and is intended to be a family friendly environment providing a fun, safe, free, healthy, active recreation amenity for our community.
Just a reminder wherever you are using a bike, scooter or skateboard, be considerate of others. Keep out of natural areas. Pass safely and follow road safety rules. Never leave waste behind - pack it in, pack it out. Some parks do not allow bikes on trails - be aware of where you cannot go.