Saanich's Asset Management Strategy
Saanich Council approved the Asset Management Strategy on July 10, 2023. Council's Strategic Plan 2019-2023 highlights that asset management is critical to sustainable, effective service delivery, and directed staff to develop and implement the strategy.

For ease of use, here is a breakdown of the Asset Management Strategy into smaller files:
What is asset management?
Asset Management (AM) is an integrated, lifecycle approach to effective stewardship of assets to maximize benefits, manage risk and provide satisfactory Levels of Service to the public in a sustainable manner.
Why is asset management important?
Saanich delivers a wide range of services to our residents, using the physical assets that we own, operate and maintain (e.g. drainage, facilities, information technology, natural assets, park & trail structures, transportation, vehicles & equipment, wastewater, water). A formal, systematic AM Program that is applied consistently across the District, will help us improve the way we manage these assets, reduce our risk, and work towards sustainable funding levels.
Why invest in asset management?
To answer the question "Why invest in asset management?", the Federation of Canadian Municipalities has produced a short video found on their website.
How do we manage our assets?
The Saanich AM Program is based on the Asset Management BC Framework: Asset Management for Sustainable Service Delivery, known as "The Wheel", which represents an iterative process of continuous improvement. The key to the framework is sustainability, which means meeting the needs of the present without compromising the ability of future generations to meet their own needs. For the full framework and other asset management resources, please visit Asset Management BC's website at Asset Management BC.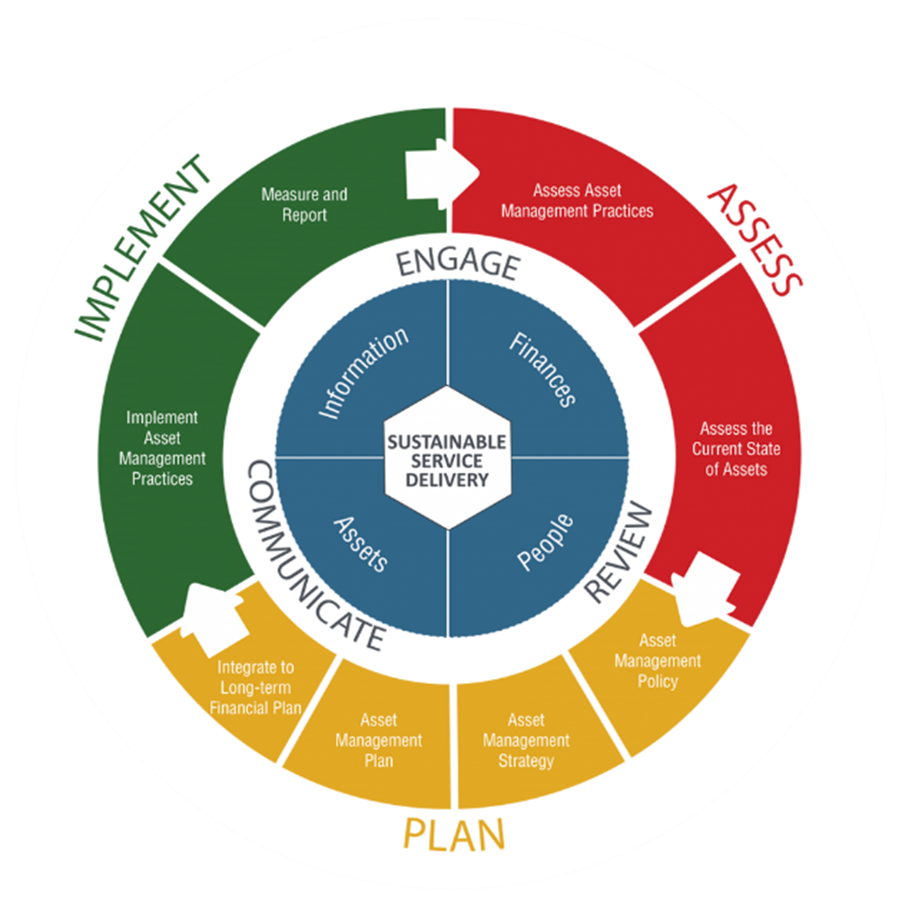 Saanich Asset Management Policy
The goal of the Asset Management Program is to develop and implement a District-wide, systematic and consistent approach to managing our physical assets to ensure that decisions regarding levels of service, asset maintenance, renewal and replacement, and funding are sustainable over the long term, in accordance with the five key principles set out in the Asset Management Policy:
Service Delivery to Customers
Long-Term Sustainability and Resilience
Holistic Approach
Fiscal Responsibility and Asset-Management Decision-Making
Continual Improvement
What's next?
Saanich has made good progress in its asset management journey so far and will continue to make improvements towards sustainable service delivery.