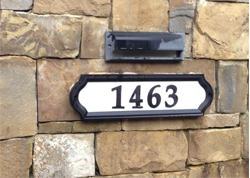 A poorly displayed house number can delay fire, police and ambulance finding you when you need it most – in an emergency!
Believe it or not, many house numbers are not visible from the street. It's even worse at night.
What does our Street Address Bylaw say? "Each street address shall be of a design and size that is clearly legible and visible from the street."
Display your house number near your front door and close to your porch light. If it's not visible from the street, also display your number on your property about two feet from where your driveway meets the roadway.
To make your house number stand out, pick a colour that contrasts with the background colour of the building, mailbox or post.
Bigger is better. Use numbers that are at least four inches tall if displayed on a house or street curb. On a mailbox, at least three inches tall.
Watch: Is your number up?