Extreme Heat
Extreme heat can put your health at risk. It is important to take steps to protect yourself and your family. While extreme heat can put everyone at risk from heat illnesses, health risks are greatest for: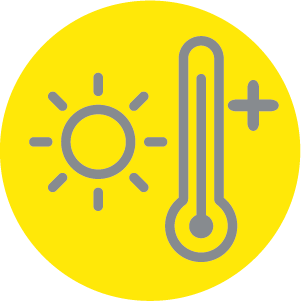 Older adults
Infants and young children
People with chronic illnesses (like breathing problems, mental illness, and heart problems)
People who work in the heat
People who exercise in the heat
People experiencing homelessness
If you are taking medication or have a health condition, ask your doctor or pharmacist if it increases your health risk in the heat.
During extreme heat, the most important thing is to keep cool and hydrated.
Drink water regularly, even more than you think you need
Check on family, friends and your neighbours, especially those who are isolated or more vulnerable to heat illness
Make your home as comfortable as possible – close blinds and shutters during the daytime and open them at night
Open your windows at night to let in cooler air
If you don't have air-conditioning, take shelter in the coolest room in your home and use a fan
Cool showers and misting yourself and your clothing with cool water will help keep you from overheating
If you're heading outside make sure you protect yourself from the sun by staying in the shade, avoiding direct sun mid-day, wearing a hat and protective clothing, using sunscreen, and wearing UV-protective eye wear
Seek cooler, breezier areas such as a large park near water with lots of trees
Find out more about extreme heat waves in Canada.
Beat the heat in times of COVID-19
Winter Storm Hazards
During winter, storms can put your safety at risk in many ways.
Pay attention to weather forecasts and take appropriate preparedness measures to ensure your personal safety. Watch this preparedness video to get started.
Be Prepared
While most power outages last only minutes, in severe weather events, the power can be off for longer periods of time.
Think ahead and get prepared.
Plan for isolation in your home.
Consider a safe backup heating system.
Ensure that you have enough heating fuel for fire places or wood burning stoves.
Have working smoke alarms, fire extinguishers and sprinklers.
Have a fire escape plan in place.
It is a good idea to assess the trees on your property. Trim dead branches to reduce the danger of them falling onto power lines or your house during a storm.
Stay away from fallen power lines. A hanging power line could be charged (live) and electrocute you. Also remember that ice, branches or power lines can continue to break and fall for several hours after a storm ends.
Power Failure
Most home heating systems depend on electric power. As backup, consider installing a non-electric standby stove or heater.
Choose approved heating units that don't need electric motors, fans or other electrical devices to work.
If the standby heating unit uses the normal house oil or gas supply, make sure it's properly connected and vented.
Before using an emergency home generator during a power outage, check with the dealer or manufacturer for power needs and proper operating procedures.
Use caution and follow directions.
Make sure they are in a well-ventilated area.
Do not connect your home portable generator directly to a house wiring system without the proper installation of an approved transfer switch and inspection and approval by an electrical inspector.
Never use a camp stove, barbecue, or propane or kerosene heater indoors. You can die from a build-up of carbon monoxide gas in unventilated areas.
If your home heating system fails, take the following precautions:
Remain calm. Your house may remain warm for several hours.
Avoid opening doors unnecessarily.
During a power failure, turn off all electrical appliances.
If you have a safe, approved backup heat source, start to use it before the house cools down.
Maintain adequate ventilation.
Stay warm. Dress in layers and bring out extra blankets.
Consider closing off one room for primary heating and use.
If you're worried about freezing pipes, opening a tap even a small amount may keep water moving enough to keep pipes from freezing.
For information about power outages and estimated power restoration in your area, visit the BC Hydro website.
Icy Conditions
Stairways and sidewalks may be icy and increase the risk of falls.
Hypothermia
Wind chill is a combination of cold temperatures and wind conditions which may cause rapid loss of body temperature. Excess wind chill may require special precautions for outdoor activities. If you suspect frostbite or hypothermia, know how to begin warming the person slowly and seek immediate medical assistance.
Evacuations
In extreme conditions, you may want to arrange to stay with relatives, friends or neighbours.
Listen to weather forecasts and instructions from local officials.
Communities may set up reception centres to support residents.
Keep an eye out for your neighbours who may be at risk.
Always follow the instructions of first responders and local emergency officials.
Take your Grab and Go Bag if you need to evacuate.