UPDATE!
We are seeking your input on draft planning concepts for the Quadra McKenzie area. Register today for community workshops below.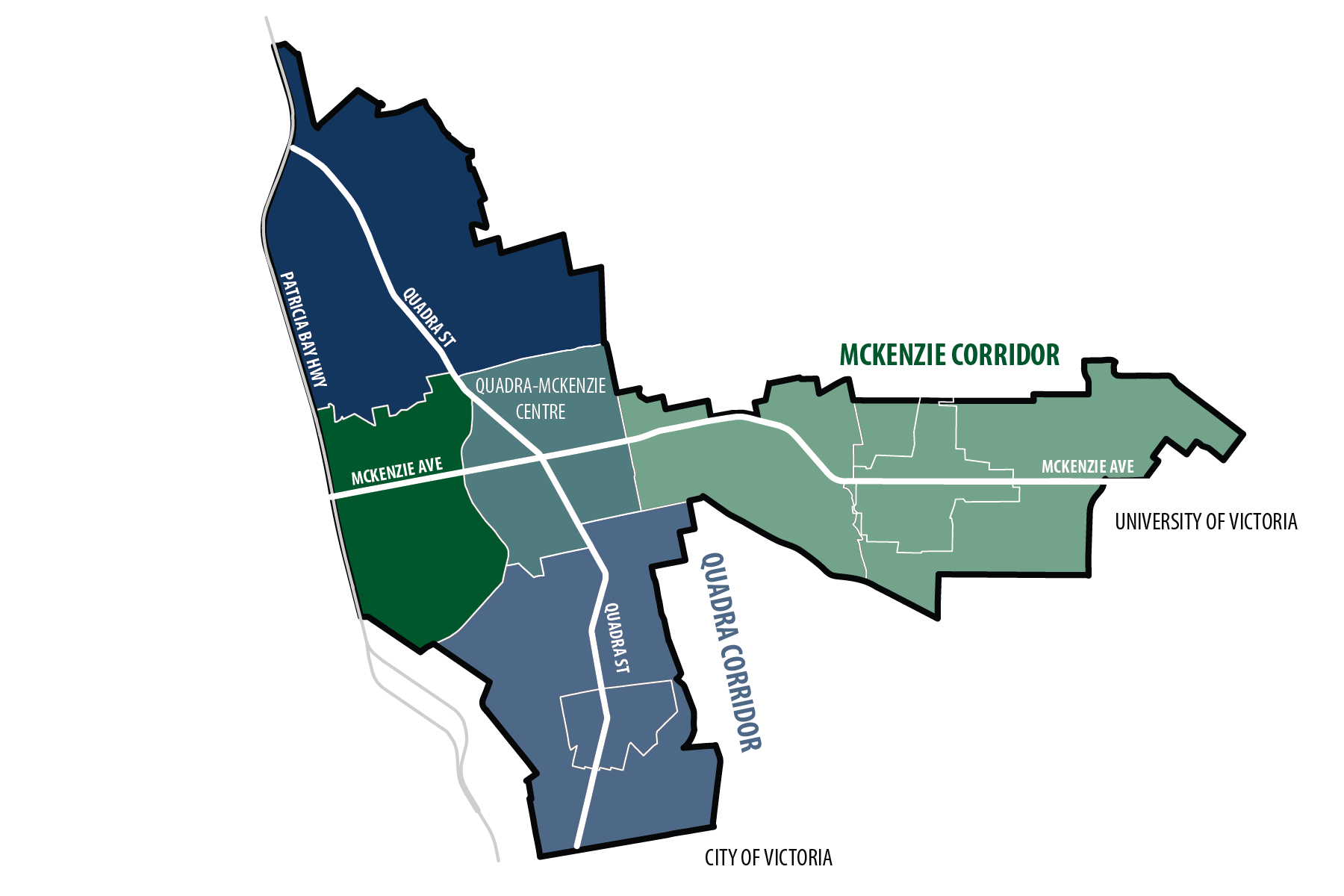 Online Sessions and Community Workshops
Registration in advance is recommended. Prizes available for workshop pre-registration
Snacks and refreshments will be provided
Children's activities will be offered
Event Registration:
Series Introduction and Overview Session
Two identical sessions
Wednesday, November 29, 2023
Online
Option 1: 12:00 p.m. – 1:30 p.m.
Option 2: 6:30 p.m. – 8:00 p.m.
McKenzie Corridor Land Use and Housing
Saturday, December 2, 2023, 1:00 p.m. – 4:00 p.m. | Register here
Reynolds Secondary (3963 Borden Street)
QMS McKenzie Corridor Land Use_December 2 Presentation.pdf [PDF - 13 MB]
Quadra Corridor Land Use and Housing
Saturday, December 9, 2023, 1:00 p.m. – 4:00 p.m. | Register here
Reynolds Secondary (3963 Borden Street)
Transportation and Mobility Workshop
Saturday, January 20, 2024, 1:00 p.m. – 4:00 p.m. | Register here
Reynolds Secondary (3963 Borden Street)
Land Use and Housing Focus Areas
Saturday, January 27, 2024, 1:00 p.m. – 4:00 p.m. | Register here
Reynolds Secondary (3963 Borden Street)
Series Wrap-Up Overview Workshop
Two identical sessions
Wednesday, February 7, 2024
Online
Sign up here for general updates
Building the Quadra McKenzie Plan
This Plan will guide change over the next 20 years. Key items we will be exploring include:
Identifying the location of new housing options
Designing corridors to support sustainable transportation
Providing walkable access to community amenities and services
Identifying how the redevelopment of major sites can contribute to the area
Project Overview
The Quadra McKenzie Study (QMS) will result in a plan to promote sustainable land use and accommodate new housing and employment growth within well designed Centres, Corridors and Villages (CCV).
The Study includes the following areas:
Quadra-McKenzie Centre
University Centre
Quadra Corridor
McKenzie Corridor
Four Corners Village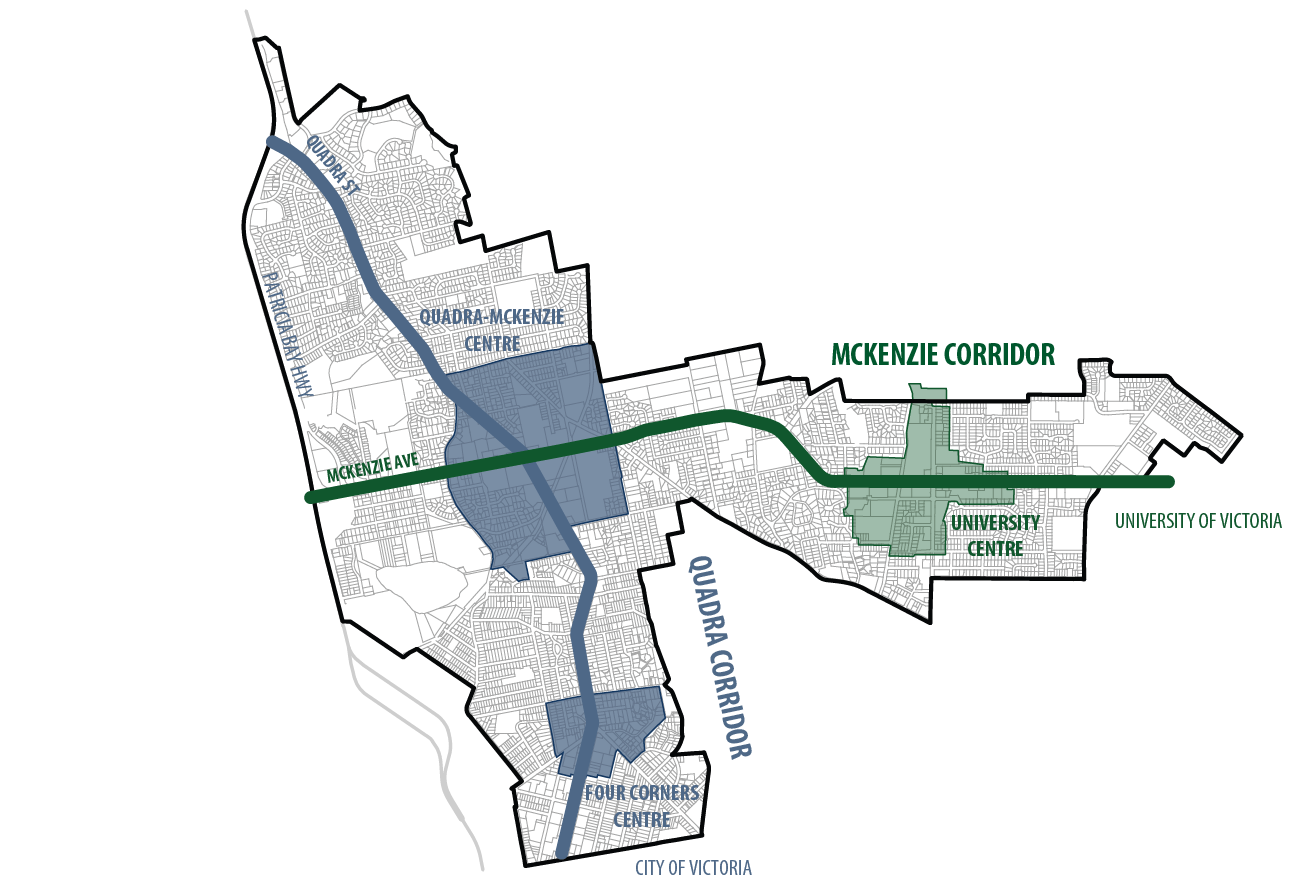 These areas are envisioned to be vibrant, walkable Centres and Villages linked by Corridors with frequent transit service, and all ages and ability cycling and walking facilities. The plan will provide guidance on growth and change over the next 20 years. The QMS will result in a Plan for the area that will shape the homes we build, the streets we travel on, the parks we play in and the neighbourhoods we live in.
There are several important initiatives underway that offer the opportunity to work collaboratively to address some of our greatest challenges and opportunities to take action on climate, respond to housing supply, diversity and affordability gaps, and strengthen partnerships with BC Transit to support frequent transit on the McKenzie and Quadra Corridors.
WHERE WE ARE IN THE PROCESS
The Plan will be developed over 4 phases, with opportunities for public engagement at each phase. The draft Plan will be presented to Council in winter 2024.

We are currently in Phase 2b: Plan Development. The priority work areas in this phase are to:
Confirm the goal statements
Conduct technical analysis
Understand challenges and opportunities
Draft initial planning concepts that respond to the project objectives including:

Land use scenario maps & designations
Complete street cross sections
Design considerations
Get Involved
The District of Saanich would like to thank the many community members who provided input on the QMS over July and August, 2023. Engagement focused on receiving input on challenges, opportunities, and the goal statements for the QMS area. Hundreds of residents participated in the survey, map your experiences tool, and attended the pop-up events where they spoke to planning staff, asked questions about the QMS process and materials.
The input will inform the land use, transportation, housing, and public space concepts that will be discussed at the community workshops in late Fall 2023 as part of the next phase of plan development, Phase 2b.
At the conclusion of phase 2 an engagement summary report will be presented to Council and document the process, including who participated, what was heard at each activity, and how the feedback is recommended to be used to shape the draft plan.
To ensure that you stay informed on the project status and engagement opportunities, please sign-up and be a part of the process!
PROJECT BACKGROUND
A detailed Terms of Reference for the Quadra McKenzie Study was endorsed by Council at the Committee of the Whole meeting on August 8, 2022. The Report to Council and the Terms of Reference are linked below:
Relationship to the Official Community Plan
The Official Community Plan is a District-wide document that sets out a long-term vision for the community and guides growth and change in Saanich. The OCP works together with other plans and several of the core concepts introduced in the Strategic OCP Update (currently underway) will be further implemented through the Quadra McKenzie Study.