Nearly destroyed in a house demolition, this remarkable photo collection provides a rich record of the work of a female photographer in the early 20th century. It also gives us a glimpse of life in the early years of Saanich.
View a selection of Annie Girling's work in the photo gallery below.

Search Annie's complete work through our online photo search site.

Anne Alice Girling was born in Suffolk, England in 1880. She studied photography at Woolwich Polytechnic before moving to Canada with her parents and siblings on October 4, 1912.
During her lifetime, Annie experimented with photographic methods and paid careful attention to composition and lighting. She kept a darkroom in her home and developed her own images—916 of them. These 535 glass plate negatives, 357 film negatives and 24 prints include the following:
the family's daily life at their home on Swan Lake.
portraits of her siblings.
nature studies drawn from the landscape around her.
still-life images.
pictures of Saanich and Victoria taken from 1912 to the 1940s.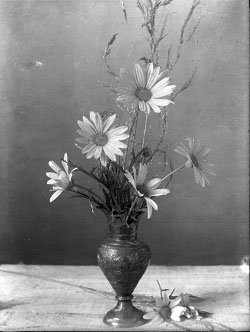 Annie never married and continued to live with family members in the Finnerty Road house until her death in 1953.
The demolition of the Girlings' Finnerty Road home (a converted school house) in the 1960s nearly destroyed the collection. Lindsay Lambert, a photographic historian, rescued the materials and preserved them for more than 30 years. In 2008, Mr. Lambert generously donated Annie's 1901 field camera, plate holders, printing frames and collection of negatives to Saanich Archives. Descendants of the Girling family have helped immeasurably by identifying images and providing a wealth of background information.