Project Update - April 2019
Saanich Parks and the community finalized a Concept Plan for McMinn Park in 2017. It is being built in two phases:
Phase 1, consisting of a new playground, sport court, pickle ball court, pathways, furniture and tree planting is complete. We've also installed an 'Around the Nine' Disk Golf course.
Phase 2, consisting of a small bike skills area, and a small public washroom building are scheduled for construction in 2019 (timing TBD).

Bike skills area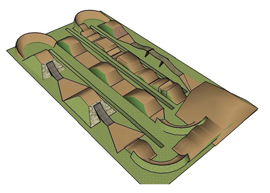 Parks has worked with local youth and a designer to finalize the Bike Skills Area design. This project involves significant earth-works, and vehicles will be active throughout this period.
Every effort will be made to minimize disruption during construction. We may need to close access to some trails near the work site as work progresses.
Public washroom
We plan on building the public washroom later this year. Details coming as soon as available!
Contact Saanich Parks at parks@saanich.ca or 250-475-5522 for more information.
Disc Golf Pilot Project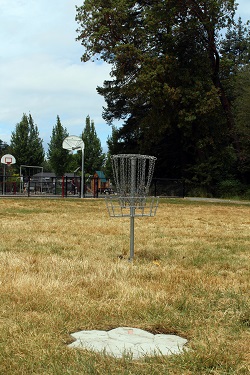 Saanich Parks is partnering with Recreation to try a disc golf pilot project. Disc golf is becoming increasingly popular and we are trying a temporary installation in the newly upgraded McMinn Park. We are installing one disc golf basket located in the main field area to play the game 'Around the Nine'. Nine concrete pads will be numbered and installed at increasingly difficult distances from the basket in a circular pattern. Play alone or with a group of friends!