Haro Woods Park Management Plan
Overview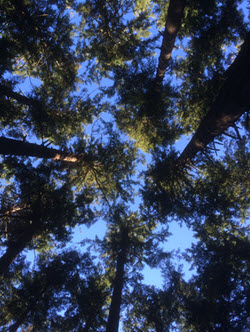 Thanks to public consultation and the help of the Haro Woods Advisory Group, we developed the Haro Woods Park Management Plan. We held a total of 4 Public Events and 13 Advisory Group meetings to collect input from the community and stakeholders.
We have incorporated the community's values in the plan's intention to accommodate visitors of all ages, and resolve long-term issues including conflicting uses, invasive plants, and impacts to soil and vegetation.
Damaging off-trail recreation
Previous off-trail travel by people, including off-trail biking and jump-building has caused much of the past negative impact to the woods. These activities can damage trees, the forest understorey, and soil. They also help invasive plants become established, which displaces the native vegetation that provides food and shelter for local wildlife.
Deciding how best to deal with off-trail biking was the most difficult aspect of the plan. Support for off-trail biking was insufficient during public consultations; as such, these activities will not be permitted in the park.
Welcome activities
Passive activities such as walking, nature appreciation, dog walking, and recreational cycling on designated trails are welcome. Watch for various initiatives in the coming months and years that support these activities. You may also notice Parks staff and volunteers working to restore areas impacted by past off-trail activity.
Help protect Haro Woods Park and the creatures who live there
Stay on existing trails whether walking or cycling.
Cyclists follow good 'Share the Trail' etiquette: yield to pedestrians, travel slowly, and let pedestrians know when you are passing.
Keep pets on trails.
Do not dig, or damage vegetation or soil.
Respect restoration sites.
Pay attention to signs posted in the park.
Report damaging activities.
Tell your friends and neighbours how they can help too.
Details about the management plan, and a record of all meetings and public input follow.
Management Plan
Haro Woods Park is an important environmental and recreational asset for the community. Saanich Parks along with the public and stakeholders have created a Management Plan [PDF - 3 MB] for the park. The plan establishes the park's guiding vision, and natural areas management and recreation strategy.
This plan has been approved by Saanich Council as of December 10, 2018.
Public participation events held
Final Open House (April 17, 2018)
Check out the display boards with info about the draft plan and options for the trails and bike use in the woods.
Click here to see the results of the related survey.
Draft Management Plan Open House (November 9, 2017)
We held an open house to share the draft Haro Woods Management Plan.
Were you unable to attend? View the presentation boards [PDF - 2.8 MB].
Review of draft Haro Woods Vision and Goals (January 28, 2017)
Community members and Saanich staff had a conversation about Haro Woods and the draft vision and goals on January 28, 2017. You can view a summary of the event [PDF - 582 KB] as well as the results of a related survey [PDF - 112 KB] that ran from January 28 to February 28, 2017.
View the supporting documents:
Draft Vision Statement Community Consultation (October 1, 2016)
On Saturday October 1 we held our first event to help create a draft vision statement:
"Haro Woods is a healthy, functioning urban forest that welcomes all respectful users."
A related survey ran from October 1 to October 31, 2016:
See other results [PDF - 1.8 MB] from this public event.
Final Vision Statment
Further refinement at the January 28, 2017, public event and by the advisory group produced the final vision statement:
"Haro Woods is a healthy urban forest. It is a functioning ecosystem that welcomes respectful use."
About Haro Woods
This property is in the Cadboro Bay neighbourhood. The District of Saanich owns two of the four parcels collectively referred to as Haro Woods. These two parcels total 5.75 ha (14.2 ac) and are P4-N zoned: Natural Park.
A third parcel (1.56 ha/3.9 ac) is owned by the CRD, and the final piece (1.46 ha/3.6 ac) is owned by the University of Victoria.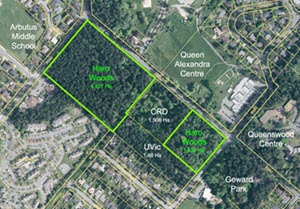 Advisory Group
To ensure that the management plan reflects the community's values, Saanich Parks has formed an Advisory Group. It consists of representatives from the community and other key stakeholder groups. The group assists with public engagement and research, and will act as a sounding board for ideas and potential options as the draft management plan is developed.
Advisory Group meeting notes:
Other committee meetings
Our team has made presentations about Haro Woods at other committee meetings. Links to these meetings minutes (as available) are below. You may have to perform a key word search to locate the item specific to Haro Woods.
Cadboro Bay Residents Association Board Meeting
Environmental and Natural Areas Advisory Committee - 2018-Apr-18
Cadboro Bay Residents Association Board Meeting
Contact parks@saanich.ca for more information.